Posted on 2015-11-19
A Visit to López de Heredia

Author: Dirk Chan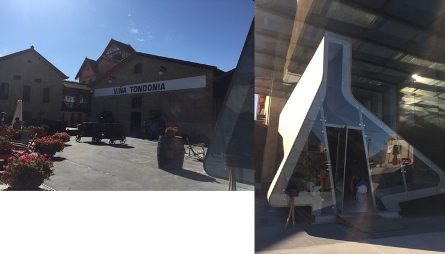 Leaving Ribera del Duero, we then travelled east to the Rioja wine region. There are very few wineries in Spain... in the world for that matter, whose name conjures up the heritage, prestige and adherence to old world winemaking quite like R. López de Heredia. Little about this winery has changed in the 138 years since it's founding by Don Rafael López de Heredia founded it in 1877. The family adheres to a winemaking doctrine blueprinted in the 1880's - to make wine only from their own vineyards.

Located in the historic town of Haro, Heredia was the first to establish their winery next to the train station (for easy access to transporting their wines abroad). This area is known as 'Station District', there are seven famous wineries that make up this Golden Mile of Rioja - made up of Roda, Muga, Cune, La Rioja Alta, Gomez Cruzado, Bilbainas and Heredia.

Haro is a must visit for wine lovers (there's not much else to do if you don't like wine). Getting here from the north is a two hour train ride from Bilbao, from the south it is a 3.5 hour drive from Madrid, or accessible from the Ebro axis from the east via Logrono (53km) which is where we stayed on our trip.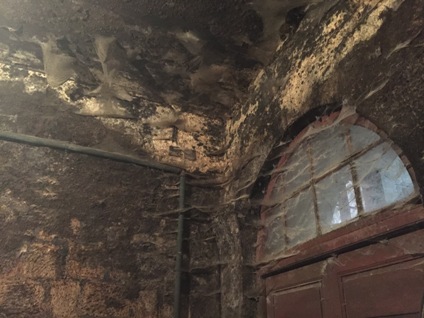 Tondonia is the most famous vineyard in Rioja, having been acquired from the clergy in 1913, it is a beautiful vineyard over 247 acres at 1600 feet above sea level on the right bank of the Ebro with alluvial clay where all 4 red grapes (Tempranillo - the main grape, Mazuelo, Graciano and Garnarcha) are grown. A 1970 Tondonia Gran Reserva tasted on this trip was probably our wine of the trip, spectacular secondary characteristics with leaf, tea, gravel, wild mushrooms on the nose, stellar acidity (with no tannins), sage and savory elements on the balanced palate - extraordinary. Hard to believe but the current release of the Gran Reserva is their 1981 - that is how long they are prepared to wait to release their best. When it was released, it sold so quickly that the winery decided to put a hold on shipping until further notice the demand was so high. It is mind-boggling how much time and money are sitting in their cellars - these wines are stored until the winemakers feel it is peaking before they are released.

Besides Tondonia, the other single vineyards Bosconia, Cubillo and Zaconia all have their own special traits that speak to the soil and terroir, all beautifully expressive of the land. Only estate bottled fruit is used in their wines which are legendary and renowned for their ageability (and that includes the longaging white), beautiful traditionally made style with elegance and complexity in abundance.

While the cellars are ancient, there are modern elements as in the main entrance to the pavilion is a modern building in the shape of a decanter (see above) created by Dame Zaha Hadid, the famous Iraqi-British architect. Its unique onion peel layers is distinctly neofuturistic with different presentations and multiple perspective points giving different impressions.

Stepping into the cellars themselves is like stepping back in time to the 1880's. There are barrels that are 140 years old still in use and then there is the cobwebby cellars. If they leak, they are repaired. Those who don't like penicillin or webs or dampness better stay home, but alas this micro-climate takes decades to develop and gives the cellaring conditions that make these wines special. They also employ their own cooper to make barrels as required.

Thus a definite hilite of our entire trip to one of the leading wineries in all of Spain. You must all try these exceptional wines if you are at all interested in Rioja.

Here is a list of available Heredia wines at deVine's: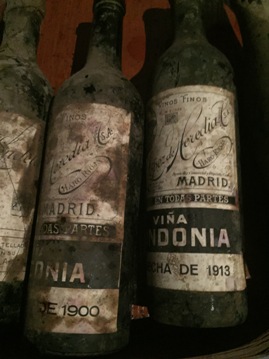 2006 Lopez de Heredia Vina Cubillo Crianza - 375mL - $24.99

2006 Lopez de Heredia Vina Cubillo Crianza - $36.99

2004 & 2005 Lopez de Heredia Rioja Blanco Vina Gravonia Crianza - $39.99

2004 Lopez de Heredia Vina Bosconia Reserva - $47.99

2002 Lopez de Heredia Vina Tondonia Reserva - $54.99

2003 Lopez de Heredia Vina Bosconia Reserva - $54.99

2001 Lopez de Heredia Vina Tondonia Reserva Magnum - $149.99