Posted on 2014-12-09
Save the Date! December 18 is Customer Appreciation
Day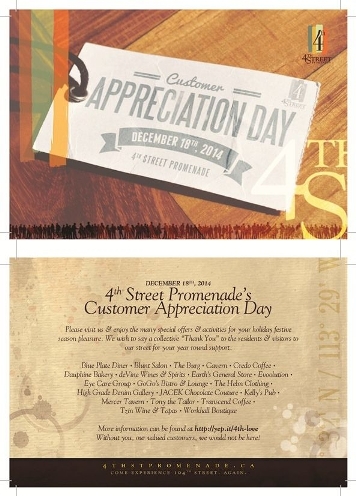 Author: Ed Fong

Every year, deVine Wines and our neighbors on 104th-St. get together to say a collective "Thank You!" for your ongoing support. This year, Customer Appreciation Day will be held on Thursday, December 18, 2014.

Saying Thank You at deVine Wines: deVine Wines will be offering our customers a 10% discount on all regular priced wines and spirits. The sale will run all day, starting at 10:00 AM until we close at 9:00 PM. The sale excludes beer and wines stored in our vintage keeper and vintage room.

Savings of up to 30% will be extended to a select group of wines.

Customers can enjoy free tastings between 2:00 PM and 8:00 PM while they shop. Great wines and premium spirits can be sampled while you browse.

Customers can enter to win a free gift basket of wine when you visit us in December. The draw will be made on December 18, 2014.

Please Help Us Help Others: All participating merchants and deVine Wines would like to extend a helping hand to those less fortunate. We are collecting knitwear on behalf of the Edmonton Emergency Relief Society. If you have any new or clean second hand toques, mittens, gloves or socks, please drop them off at deVine Wines. To learn more about our neighbor and charity of choice, please visit their website at http://www.eerss.ca

deVine Wines is also collecting food for the Edmonton Food Bank. To learn more about the needs of the Edmonton Food Bank, please follow this link here..

Community Spirit - The 104th-St. Action Committee is planning additional special events to get everyone in a festive mood:

2:00 PM - A special ceremony is being organized for the winter opening of the Pocket Park located at 10120-104 Street. The park can be found just north of Jasper Avenue, on the west side, between the alley and the Icon I Tower.

City officials, park personnel, representative merchants and members of the Downtown Edmonton Community League and the Downtown Business Association have been invited to dedicate our new park.

To celebrate winter and the festive season, a fire barrel will be lit and festive season lights turned on. Come and enjoy a choir. Perhaps you can even meet a special guest from as far away as the North Pole! You never know who you can run into on 104th-St.!

4:00 PM - Our first choir is scheduled to perform at various points on 104th-St. and in businesses. Hot chocolate will be served in the Pocket Park courtesy of the Coast Edmonton Plaza Hotel. A fire pit will be available to roast marshmallows and toast your buns in the park! Knitwear for the Edmonton Emergency Relief Society can also be dropped of at the Pocket Park.

6:00 PM - The second choir will start their performances. Activities in the Pocket Park will continue until 8:00 PM.

Saying Thank You on 104th-Street: 19 of our neighboring businesses will also be hosting Customer Appreciation Day. For a complete list of participating businesses and details of their event, please visit this link here..

We look forward to seeing everyone on our street on Thursday, December 18th.