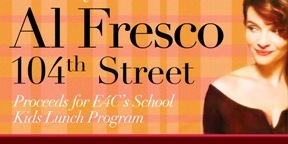 Author: Dirk Chan
The much anticipated 3rd Annual Al Fresco block party on 104th Street is scheduled for Saturday, June 11th. It will be the biggest and best one yet with numerous new ideas and special events being planned. Look for our online auction webpage coming very shortly with both a wide array of desirable and collectible items for your consideration. For the second year in a row, our fundraising will be in support of the E4C School Lunch Program.
As everyone knows, setting up a large event such as this requires lots of volunteers, hours and money. We will be doing a few events leading up to Al Fresco to generate some needed funds to make this event a success, the first of which is the Al Fresco in Italy tasting on Saturday, March 26 at 7pm at the store. This is a stand-up mingle festival style event with 15 wines from the Italian portfolio of Jennifer Klinck of Vendemmia International Wines being showcased. There will be some Southern Italian munchies provided by Daniel Costa and his new restaurant Corso 32 that will pair with the wines beautifully.
Tickets are selling very fast so register quickly to avoid disappointment. Unlike our other festival style tastings, there is no drop-in for this event due to the food component of this tasting. You can pre-register by clicking here..
If you are interested in volunteer your time during the event, or if you have connections to people and organizations who would like to donate funds or donate quality auction items in support of the E4C School Lunch Program, please drop us a note at info@devinewines.ca. We appreciate your support for this wonderful cause. Stayed tuned, much more information will be disseminated shortly…