PASTICHE 6 Auction Items - 2011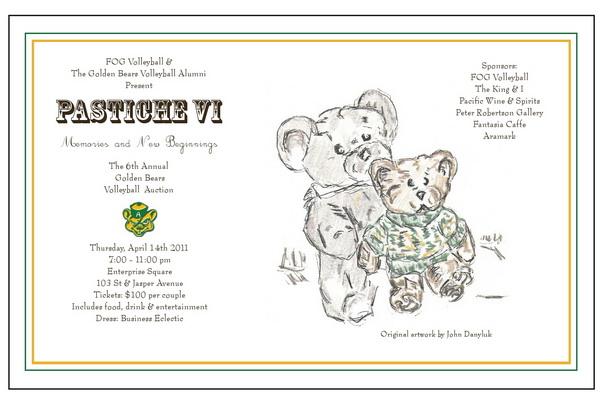 FOG Volleyball & the Golden Bears Volleyball Alumni Present "PASTICHE 6", the 6th Annual Golden Bears Art & Wine Auction.
To be held at "Enterprise Square" - 103 St & Jasper Avenue, the fundraiser is scheduled for Thursday, April 14th from 7-10:30pm.
Combining Art and sport since 2006, this year's event will highlight outstanding artwork for auction from artists such as Real Fournier, Graham Peacock, Yuriko Kitamura, Jerry Whitehead, Steven Csorba, Kelly Johner and Patrice Lesick, along with artists from this year's graduating class of the Fine Arts faculty from the University of Alberta.

In all, approximately 50 pieces of artwork ranging from $25 to $5600 will be up for auction n both "live" and "silent" auction format. Food, wine and drinks provided by generous sponsors. Musical entertainment will be provided by a variety of artists including former National Volleyball team member Rod Walsh and his son Brett Walsh as well as the "Humdingers".

Join us for a sizzling mixer of Art, Sport, Food & Drink! Tickets are $100 each with a ticket admitting two guests - contact Terry Danyluk at 780-492-1015 or by email at Terry.danyluk@ualberta.ca (deadline for tickets is April 12). "Activity Registration Zone" phone number where you can buy tickets over the phone and pay by credit card is (780) 492-2231. Click here for the event pdf. Auction bidding is now open and are accepted in mininum of $10 increments up till the start of the event. Please bookmark this page and come back often to check on current high bids. Additional items will also be added to this page as they become available for bidding. Advanced bids are accepted and encouraged.