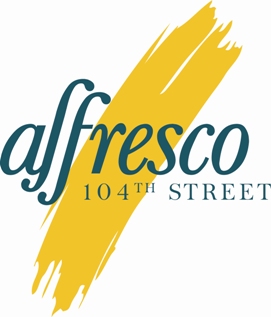 Author: Dirk Chan
A big THANKS! to all who came out to enjoy Al Fresco on June 11th and bid on our silent auction items. Your support and generosity helped us raise over $26,000 for the E4C School Lunch Program which feeds kids who go to school hungry.
What started out as a deVine fundraiser and a celebration of our 4th year anniversary quickly evolved into an annual 104th-St. community summer event. We want to take this opportunity to thank the various groups involved who made this event the success it was this year.
First a thank you to our Financial Sponsors: the Downtown Business Association, Melcor Developments and the City of Edmonton.
Publicity is the key to the success of any event, you can have the best event that no one knows about, but luckily we had Yuri Wuensch and Marcus Gurske of Play it By Ear Productions for spreading the word and a masterful job they did too with logo and poster design, newspaper, radio and tv interviews. We want to single out Virgin FM for being our Media Sponsor.
Food was a big part of Al Fresco, and a big thank is in order for the long and dedicated hours put in by John Williams of The Blue Plate Diner who was instrumental in pulling together all the great restaurants that were represented at this year's event. Thank you to the restaurants TZiN Wine & Tapas, Credo Coffee, Sabor Divino, Tres Carnales, Pampa Brazilian Steakhouse, Elm Café, MRKT and Alley Kat Brewery for your enthusiastic participation and then the donations after the fact.
We hope you enjoyed the various entertainment showcased at Al Fresco – due to the hard work and talent of Bridget Smatlan (Fashion Show Organizer and Vendor Coordinator) and Allan Harding (Music Programs), Laura Molina (Fridget Apparel's Marvel College intern and fashion show assistant), Rob Gaspar (Blunt Salon Owner – Coordnated models and hair), Jessica Halabi (Jessica Halabi Designs), Anna McDonough and Nga Van (Coup Boutique), C'est Sera and all their lovely customers who modeled for the show, Blunt Salon Stylists who did the hair for fashion show, Mode Models, Beauty Lounge, Andie Smith and Kim Jurina (Eyecare Group), make-up artists Gina Cicero and Andrea Steen (Georgie Magazine's), fashion show dj Dane MacDonald, Patrick Michalak– sound, street participants Capital City Burlesque.
The involvement of so many businesses on 104th-St. truly made Al Fresco a community event. Your enthusiasm in pulling together to support a common cause was truly impressive. Our thanks to Melcor for donating the use of their parking lot, Handmade Mafia's Ally Ng and Onelineguy Records -Tariq Ishida for his donation box fabricator and as the heavy lifter volunteer.
Our gratitude to another successful pancake breakfast by the Downtown Edmonton Community League. The breakfast was a great way to kick-start the day.
Thanks to the vendors of the Edmonton Downtown Farmers Market who remained open for the Al Fresco activities. You showed great stamina in being on 104th-St. from 8:00 AM on! Thanks to liaisons Gabriele Campbell and Dan Young.
No event of this magnitude would be able to run smoothly without the people who donated their time and effort. There are too many names to single out but you know who you are and our most sincere thanks go out to all of you kind-hearted folk!
A big thanks to all the agents and wine importers who came out to pour at the deVine outdoor tent and support this very worthwhile fundraiser. We could not have done this without your support. Over 300 people lined up to come in and taste wine when we only expected 300. Your donation in time and product helped us raise over $4,000! We raise a glass to you all for an outstanding effort!
The online and in-store silent auction raised over $17,000 for E4C, it is the mainstay of our charity fundraising, and the only thing bad weather does not impact. The many interesting and unique items contributed by our generous donors made this all possible. A big THANK YOU to all those who donated and to those people who bid with open hearts. Cheers!
The logistics of putting on such an event is massive, we want to thank Jennifer Collins of the City of Edmonton and Jennifer Treece of the AGLC for clearing the road blocks.
Miscellaneous thankyou's to Big Top Event Rentals, Thomas Rose of Sobey's, Lianne Faulder of the Edmonton Journal, Kristin Morra of E4C, Jon Hall, Jim Taylor, Michael Phair, Chelle Busch, Gord Stewart, Chris Martens, Mack Male, Cheri Onushko, Colin Gemmell, Bernard Johnson, Kelly McCauley, Barb Ursuliak, Jacqueline Coffin, Shauna Warwick, Bob Watson, Jane Batty, Ryan Mayer, Jodie Grace, Ben Henderson, Erica Viegas, Sharon Yeo, Denise Kirkpatrick, Bob Parsons, Penelope Irving, Melinda and Larry Stewart.
Last but no least, thankyou's to the deVine Wines' owners and staff for their never ending support, dedication and energy to make this happen for another year – Ed, Annabelle, Chad, Dirk, Mark, Hayley, Jimmy, Nic, Bill, Chris and Rick.