Author: Dirk Chan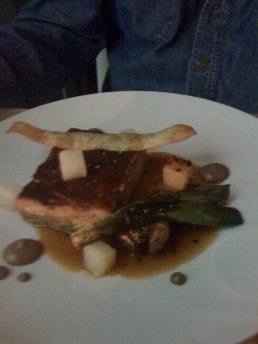 After a couple of days in the Big Apple, Annabelle and I have experienced the sardine squishing on the NY Metro, the type A people always on the go, the pedestrians completely ignoring crosswalk signage, there's queuing everywhere you go and of course, the shocking sticker price on grocery items. We've recalibrated our expectations of what is considered expensive, and what is just the going rate – we've just ignored the fact that coffee cream that costs less than $2 at home will cost $3.50 here, or a bar of Dove soap is $3.25 that I can buy two bars for $2.50 back home.
However, one thing we've discovered is that good dinners can be had for just about the same price as Edmonton if you do your homework. For example, yesterday we went the Aldea, a one star Michelin Portuguese restaurant in Manhattan's Flatiron neighbourhood, an easy 20 min train ride from our rented Upper East Side apartment. Well appointed in modern decor, we sat upstairs in a spacious table for 2.
For appetizers, Annabelle had the Croquetas de Baclhau with roasted garlic aioli, the cod is blended to a smoothness that the salty fish is only subtlely detected. Creamy texture in these cod-fish balls. I had the Shrimp Alhinho, with a subtle kick and lingering garlic finish.
The main course for Annabelle was the Arroz de Pato – duck confit was pulled and served in a rice with chorizo, olive and orange, served on top with medium rare duck breast. Sumptuous. I had the simply named Suckling Pig that was slow-cooked sous vide in a water bath. Various parts of the pig were done and then combined in a uniform rectangular shape and the grilled crisp skin on top. You could have thought it was Shepherd's Pie if you didn't know better. Great flavor from the pickled kohlrabi, carmelized onions and crush potatoes. Great presentation and the most unusual suckling pig i've ever had.
For dessert, we shared the Sonhos "Little Dreams", the Portuguese equivalent of the French Bignets, and these were "as good as my Mom's" good. Smaller then the French version, they were light as a feather, lots of egg taste and when paired with three dipping sauces: chocolate-hazelnut, salted caramel and my favourite, the lemon curd to die for. Exquisite meal.
The wine for the evening, the 2010 Herdade do Esporao Branco Reserva – a blend of three indigenous Alentejo white varietals, it was oily, lemony, perfumey and quite full-bodily dry, and as good as the 2006 which we once carried at the store. Went well with the appetizers and main courses.
Come back in a day or two for the best Mexican dinner of our lives…