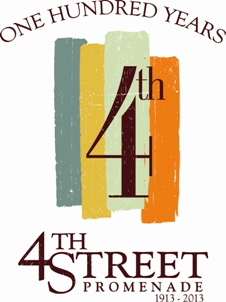 Author: Ed Fong
Al Fresco is cancelled, but that doesn't mean we can't have a block party! Come out and celebrate the centennial year of many of the heritage buildings that line our special street. Happy 100 years with many more to come!
The Centennial Block Party will take place on "Super Saturday", the weekend where Downtown Edmonton comes alive with the Pride Parade. This year, Super Saturday falls on June 8th, so save the date!
Super Saturday gets started at 8:30 AM with the Downtown Edmonton Community League's Annual Pancake Breakfast. This event is held in conjunction with the Downtown Farmer's Market which runs from 9:00 AM to 3:00 PM. The Pride Parade runs down 102 Ave starting at noon. Once again, deVine Wines will enter a float. We're hoping to be graced with Marlene Dietrich's presence and fabulous fishnets this year.
deVine Wines will be pouring wines at the store throughout the day beginning at 12:00 PM. In keeping with the celebratory mood, samples of bubbles will be served. In addition, we will be pouring our own Promenade Red. The label's artwork was designed by Daniel Chmielewski, who many of you know from his exquisite large scale monochromatic stencil works that he has donated in support of the Al Fresco silent auctions. deVine Wines is donating $1 from the sale of each bottle in support of the Centennial Block Party. To learn more about the Promenade Red, please follow this link here..
The Block Party gets swinging at 4:30 with a BBQ, street performers, salsa lessons, a live band and MORE! Make your way down the Promenade to learn about the history of our Heritage buildings. At 6 PM there will be a balloon release and official celebration. At 8 PM, the party moves indoors to Mercer Tavern with live music from Russ Dawson throughout the evening and Josh Johnson starting at 9 PM! Mercer will also have special centennial food and drink specials throughout the day!
At time of writing, some of the restaurants are making plans to extend their patios. Stay tuned for updates by checking out the deVine Wines blog at www.devinewines.ca or by following us on Twitter at: https://twitter.com/deVineWinesEDM
Our street community is very fortunate in so many ways. To help those who are struggling with trying to meet the very basic necessities of life, we are assisting the Edmonton Food Bank. Please don't forget to bring a food donation when you head down to the party! Food donations can be dropped off at deVine Wines at your convenience.
Hope to see you all there on the June 8th Super Saturday!!!