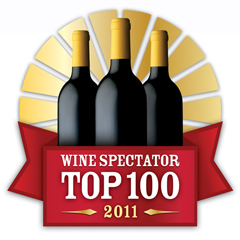 Author: Dirk Chan
Since 1988, the popular American wine publication Wine Spectator has unveiled their Top 100 list of the most exciting wines of the past twelve months. These 100 wines reflect significant trends, recognize outstanding producers and spotlight successful regions and vintages around the world.
Upon reviewing 16,000 per year, it has become very trendy to acquire wines that made the grade. For 2011, twelve countries are represented (unfortunately, no Canadian wines were cited again) with an average price per bottle this year being $44. For the second year in a row, the list is American dominated.
The availability this year was the most scarce of any year since our store's opening (with the #1 Wine Kosta Browne Pinot Noir once again long sold out at the cellar door) and though we managed to secure enough wines to do our popular Wine Spectator tasting, there are only a handful for sale this year so grab these while they last. See the available wines here..