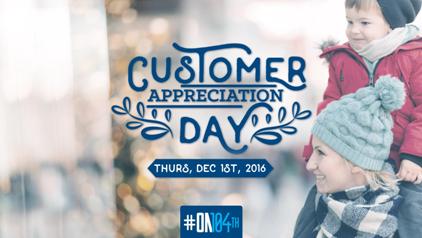 Author: Dirk Chan
The annual 104th Street Customer Appreciation Day is set for this Thursday, December 1st. Come down and experience the vibrancy of the downtown core and take advantage of special offers from local businesses on Edmonton's lively and historic 104th Street!
At deVine's, four different agents (Untapped Craft Importers, Craft Beer Importers, 49th Parallel Group and Village Brewery) will be in-store to pour beer samples for you from 4-7pm. In addition, we will be offering a 5% discount on all beers, ciders and coolers (cannot be combined with other special offers). Also, in-store December Super Savings promotions with deep discounts will be in effect. We will be open till 8pm on December 1st.
Businesses along the street will also be collecting warm clothing donations for the Edmonton Emergency Relief Services Society while deVine's also encourage you to bring some food with you for the Edmonton Food Bank.
Join the businesses #on104th as we say a collective "THANK YOU" for years of support in growing downtown and supporting local initiatives. See what our neighbor businesses are offering on December 1st by following this link – https://www.facebook.com/events/569600163243980/
deVine's very own "Customer Appreciation" day will be Thursday, December 15th, mark your calendar for our biggest sale of the year.
See you all this thursday!