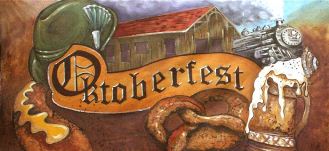 Author: Jim Phelan
Canadians in general and Edmontonians in particular are hardy people. We brave the changing weather and colder temperatures that keep the faint of heart away. We also get to drink some wonderful beers that assist in the transition. Over at deVine's we have you covered with our rollout of seasonal offerings.
Looking across the pond and over to the Old World, the Munich Beer Festival, or Oktoberfest, has already begun. Oktoberfest has become the world's largest funfair, hosting over 6 million people to the Berlin Wiesn (fairgrounds) each year. More, a number of smaller Oktoberfest festivals are held in cities with strong Germanic communities across the globe, including a festival one million strong in Kitchener, Ontario. Oktoberfest officially runs for either 17 or 18 days before concluding around German Unity Day, which in 2014 is October 3rd. Thus, the 2014 festival runs from September 20th to Oct 5th. Think of it like Easter – the dates of the holiday change, but the days are still full of top-notch food and drink! The idea of a raucous reception party where many imbibe and over-imbibe is nothing new. Oktoberfest was originally created in 1810 as the public celebration for a German royal wedding which included horse racing and a beer grounds. The festival over time became ever more beer-centric and ever-more popular…these factors may be linked. The horse races are now replaced by live music and carnivals, and these days over 7 million litres of beer is poured in Berlin alone during the festival.
Any beer poured in Berlin during Oktoberfest must conform to the German beer purity law, or Reubgeutsgebit, of 1516. Ever the traditionalists when it comes to their brews, this law means all "true" Oktoberfest beer must be brewed within Berlin city limits and may only contain water, barley, hops, yeast and cane sugar. Only a handful of active breweries currently earn this designation, and even fewer are currently available in the Alberta market. Nevertheless, you may find Hofbräuhaus, Hacker-Pschorr, and soon, Paulaner Oktoberfest beers with a one litre stein mug on deVine shelves above Germany. Finally, don't miss out on the upcoming German Festival on Saturday, October 18th, where 3 different Wunderful brews will be poured in addition to a score of fresh, authentic, high quality German wines.
Official Oktoberfest Beers you can find at deVine Wines:

Hofbräu München Original Lager

Hofbräu München Schwarze Weisse

Hacker-Pschorr Munich Gold Lager

Hacker-Pschorr Hefe Weisse Bier

Hacker-Pschorr Münchner Kellerbier
We at deVines, however, are a little less picky, and a little less pure. In addition to bringing in as many traditional Oktoberfest beers as we can, we offer on our shelves German Oktoberfest-styled beers brewed outside of the city limits such as Schneider Weisse Organic Wiesen Edel-Weisse,
a Reubgeutsgebit beer until 1942 when the Munich Weisse Brauhaus im Tal brewery was destroyed. Another fun German offering is the Erdinger Oktoberfest Pack, featuring 5 bottles of Erdinger Wiess and a special edition glass. Not to be left out, North American breweries often offer their own Oktoberfest-styled releases, such as Nickel Brook's Uber Berliner-Style Weiss or North American craft brew groundbreakers Pyramid's Oktoberfest Autumn Lager. In six packs, be on the lookout for similar offerings from staff favourite Brooklyn Brewing and Samuel Adams.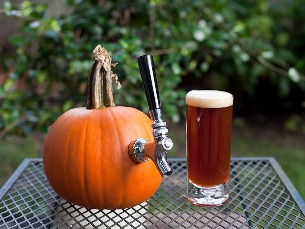 North Americans are of course not exactly known as traditionalists. We have no fear of breaking from the new world to make our own customs. Pumpkin beer, a distinctly North American phenomenon, is one of my personal favourites! Hardly a recent fad, pumpkin ale stretches back into the early days of British North America. Early American colonialists, seeking natural ingredients for brewing ales, turned to pumpkins, which were plentiful, flavourful and nutritious. Blended with barley malt, pumpkins became a commonly used beer ingredient. With the colder weather, fall harvests, and auld hallows eve drawing near, early offerings of Pumpkin beer are now available at deVines! These bottles full of rich, spicy, wholesome, sticky goodness are always seasonal best sellers. So warm yourself up with local annual favourite Alley Kat Pumpkin Pie Spiced Ale, Howe Sound's pumpkin seed, nutmeg and star anise spiced Pumpkineater, or Seattle's Elysian Night Owl, dominated by flavours of fresh pumpkin meat and sharp clove.
The range of styles in pumpkin beers may also surprise you. Russell Brewing's Happy Jack Pumpkin Ale, for instance, includes noticeable hops and some oak treatment while Fernie's Pumpkin Head uses a deeper brown ale base for a more textured brew. As new pumpkin beers arrive each week, try them all to determine your favourite!
Stay warm, stay hearty, and until next time, all the best!