On Sunday, September 29, deVine Wines, Ono Poke & Say Uncle are joining forces to host a pig roast & pork fest in support of Edmonton's Food Bank.
The event will run between 1:00 PM and 4:00 PM
Tickets are $35 per person, and can be purchase on the deVine Wines website following this link: https://devinewines.ca/events/…
Your $35 ticket will include the following three venues to sample food and drink:
deVine Wines & Spirits Location (10111 – 104th-St.)
⦁ One sample portion of Chinese Roast Pig served with fried rice
⦁ An opportunity to sample red, white & sparkling wines that pairs well with Chinese Roast Pig.
⦁ An opportunity to purchase all wine, spirits & beer at 10% off until 5:00 PM (excludes wines in our vintage keeper and vintage room)
Wines being poured at deVines:
Alysia – Charton Hobbs Inc.
1. 2017 Terrazas Torrontes
2. 2017 Terrazas Malbec
3. 2017 Cloudy Bay Sauvignon
4. Veuve Cliquot Yellow Label Brut Champagne
deVine Wines Team
1. 2018 Winzer Sommerach Silvaner Trocken
2. 2017 WGN Herxheim Grauburgunder Spatlese Trocken
3. 2016 Valle de Passos Rose
4. 2015 Patrao Diogo Lisboa Tinto
Pictured (left to right) – Ed (deVines), Lawrence (Ono Poke) and Hayley (Say Uncle)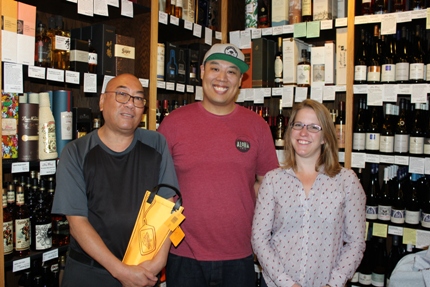 Ono Poke Location (10142 – 104th-St. in the Icon I Tower)
⦁ One sample portion from the Luau Pig Roast served with coleslaw and rice
⦁ An opportunity to sample at the " Wine & Pork" Station
⦁ An opportunity to sample at the "Bubbles, Beer & Pork" Stations
Bubbles & beer will be poured at Ono Poke:
Cathy Choi – Nobilis Wines & Spirits
1. Domaine de la Minoltiere Cidre Fermier Bio
2. Chai du Grand Vaudasniere Vouvray Brut
3. Chateau Langlois Carmin Sec Sparkling Cabernet Franc
Stuart Chell from Collective Arts Brewery
1. IPA 10
2. Jam Up the Mash
3. Surround Sound
4. Guava Gose
Say Uncle Location (10184 104 Street in the Century Tower)
⦁ Sample a Slow Roasted Porchetta Sandwich with Mustard Pesto on Focaccia Bread
⦁ An opportunity to sample a ranged or beers from this bar's partner breweries:
1. New Level Brewing > Wizard's Revenge, Strawberry Milkshake IPA and Berserker Blond
2. Town Square Brewing > Air Tractor Alberta Ale, Megawatt NEIPA and 2D Sour NEIPA
3. Analog Brewing > Loot Box Hops, West Cost IPA and Porter Fandango
A great time was had by all last year so book your tickets early as the event is limited to 100 people.
Net Proceeds will be Donated to Edmonton's Food Bank
Let's Pig Out on 104th-St, for a Great Cause!
Please Sample our Products Responsibly!