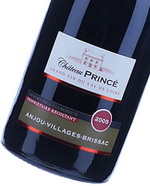 Author: Dirk Chan
The wine regions of France are pretty fabulous and that's the ultimate understatement. Bordeaux, Burgundy, Alsace, Sauterne, Champagne, Rhone are pretty glamorous and very expensive – all have established followings. Thus, it is little wonder that the Loire Valley in northern France is under-appreciated – alas, it deserves your attention nonetheless. There is no 1855 classification or 1er and Grand Cru's here, but just well made and inexpensive wines.
There are two grapes in play here , the white Chenin Blanc and the red Cabernet Franc. The fabulous white grape Chenin Blanc is produced in still, bubblie and dessert styles with its glycerin, oily honeycomb and beeswax personna with amazing acidity. The Anjoy Chenin Blancs are dry with quince and apples. In Vouvray, it is off-dry with lovely floral characteristics. When left on the vines to develop noble rot, viscous dessert wines are mesmerizing with considerable ability to age. The red grape is Cabernet Franc (normally used as a blending grape in Bordeaux) in all its glory – full of florals, wild flowers, flavorful, tannic, complex and earthy. This early ripening grape with its chalky character and disease resistent character is a thrill to enjoy and easy to appreciate.
Please join us for our next Wine Regions series tasting – The Loire Valley this coming Thursday, May 5 at the store at 7pm as we taste both the Chenin Blanc and the Cabernet Franc. Let's discover a region that should surely be more renown than it is. You may discover a new favourite. Menu and signup here..