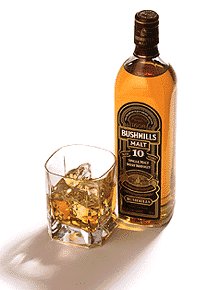 Author: Dirk Chan
Whisky is big and on Saturday, March 8th at 7pm, deVine will host an introductory sit-down tasting entitled Whisky Basics, where we'll talk and taste through the various different types: Single Malt Scotch, Bourbon, Rye, Tennessee, along with Whiskies from Ireland, Sweden, India and Canada.
Whisky or whiskey is a type of distilled alcoholic beverage made from fermented grain mash where the grain used can be of different varieties, including barley, malted barley, rye, malted rye, wheat, buckwheat and corn. Whisky is very typically aged in wooden casks, made generally of charred white oak. There are many classes and types of whiskies, the typical unifying characteristics of the different classes and types are the fermentation of grains, distillation, and aging in wooden barrels being the determing factor.
There are two spellings – Whisky or whiskey with many schools of thought on the issue. One is that the spelling difference is simply a matter of regional language convention and is just a variation on spelling (like the difference between color and colour; or recognize and recognise), and the 2nd is that the spelling should depend on the style or origin of the spirit being described – there is general agreement that when quoting the proper name printed on a label, the spelling on the label should not be altered as some will take offense to incorrect spelling. Others favour spelling each type of spirit according to the way favoured by its country of origin.
As such, the spelling 'whisky' is generally used in Canada, Japan, Scotland, England, and Wales – while 'whiskey' is more common in Ireland and the United States. The usage is not always consistent. For example, some prominent American brands, such as George Dickel, Maker's Mark, and Old Forester, use the 'whisky' spelling on their labels. "Scotch" is the internationally recognized term for "Scotch whisky". It is less used in England, Scotland & Wales, where the drink is simply called "whisky". Yes, very confusing and yes, time for a drink!
Nevertheless, there will be lots to talk about at this event – learn the difference between malt, corn, rye and blended whiskey; learn about the distilling process and the types of Grains and Malts used in the making process. And sample the differences from many whisky producing countries.
The tasting is selling quickly – you can register for the Whisky Basics tasting here..