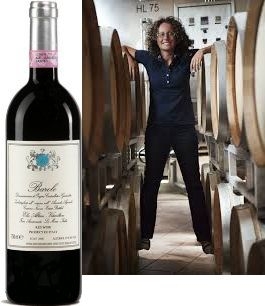 Author: Dirk Chan
Elio Altare has and continue to make one of the best Barolos in the Piedmont in northern Italy. Cut into the hills just below the town of La Morra and above the town of Annunziata, this is a lovely winery and their wines are highly sought after and celebrated by the prestigious Gambero Rosso as some of the best in all of Italy practically every year. The estate has won over 30 Gamberro Rosso Tre Bicchieri Awards.
deVine is thrilled to have winemaker Silvia Altare with us to do a vertical tasting of their Barolo. Silvia has been working besides Elio since 2000 and more and more now she runs the show while she continues her father's innovative approach and relentless improvement in the horticulture and winemaking. While the wines of Altare remain faithful to the elegant and plush style of wine produced in the sand, marl and tufa soils , they contain a freshness and concentration that is a notch above the rest.
All this comes from a strict regime in the vineyards, adopting new vinification and aging techniques in the cellar. The Barolos are amazing and lovely, with an excellent balance of tannins and acid, their fragrance a haunting reminder of what it means to be Barolo – soil, perfume and elegance. The estate practices organic viticulture.
We will feature a vertical of the Elio Altare Barolo's which are always exceptional and more cru than normale, including 2010, 2009, 2008, 2007, 2005, 2004 and 2000.
Silvia is offering a very special treat to end our tasting, the rare L'Insieme, a wine that could be loosely termed "Super Piedmont". The name means 'together' in Italian, and refers both to the friendship between eight producers that created this wine, and also to the marriage of traditional local grapes such as Barbera and Nebbiolo with international varietals such as Cabernet Sauvignon and Merlot. The L'Insieme is an
international superstar, extremely limited and especially brought in for this tasting as a great way to end the evening.
If you love Nebbiolo or would like to learn about this grape, this is a not-to-be missed event of the fall season. You will be thrilled by the arresting nose that changes continuously, and a sensual palate that matches with food brilliantly. There is a reason why Barolo is called the 'King of Wines' and the 'Wine of Kings'. Only 18 spots available for this sit-down Winemaker's event. You can sign up here..