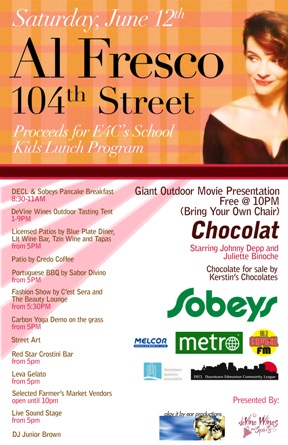 Author: Nick Tooke
It's "Al Fresco" time again, everyone, only bigger and better this year. The "if you build it they will come" epithet could not have found more eloquent proof last year than our hare-brained scheme to bring Edmontonians downtown for one almighty block party offering food, fine wine, fashion, film, and all things urban, all for a worthy cause. This year's charity is E4C's Edmonton School Lunch Program, an organization dedicated to supplying nutritious food to needy children all over the city, and with some of the cutbacks this year, they need your help more than ever. So please join us again this Saturday June 12th. Here is a taste of what's in store:
Two sound stages this year – one live, one DJ'd by Junior Brown. A half-pipe set up for skateboarding, a repeat of the wildly successful Portuguese BBQ, a crostini bar by Red Star's Daniel Costa, licensed patios by Tzin, Lit and Blue Plate Diner. deVine's wine-tasting – only it's al fresco this year, as it should be – beneath two giant tents, and, of course, another movie to cap it all off, free of charge. This year's movie is "Chocolat" with Juliette Binoche and Johnny Depp, and it will show in a perfect auditorium under the stars – Melcor's parking Lot between 29 Armstrong and the Saddlery building, with free pop and popcorn by Sobeys and way too much Kerstin's chocolate to nibble on while you watch.
The auction webpage is up and running now, please bookmark and visit the page
here. More items are added daily leading up to the big event so come back often.