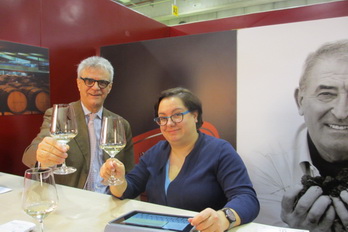 Author: Dirk Chan
VinItaly is an expo of Italian wines, it is held in Veronaannually, and the world descends on the Romeo & Juliet made famous town. Annabelle and I decided not to fight the traffic and instead took the one hour fast train into Verona from Venice daily to partake in the fair.
Our first appointment was to taste bubblies with Mattia Vezzola (pictured above with Annabelle), longtime (since 1981) enologist at the famous Franciacorta (in the Lombardy region) property of Bellavista (which in Italian means 'beautiful view'), the estate that makes Italy's finest sparkling wines.
With 200 hectares of vineyards situated in the western part of the Franciacorta zone in glacial stony soil, the terroir provides a perfect environment for the Chardonnay and Pinot Noir to grow (note no Pinot Meunier). Mr. Vezzola prefers the Chardonnay grape, it is very elegant and very sexy, akin to Bollinger, his favourite Champagne house. We spent quite some time tasting through the specialty range of his sparkling wines, many which are currently not available in Alberta, but that we hope will be soon because they are great, including:
The 2010 Uccellanda Curtefranca is made from 100% cru Chardonnay, oak-fermented and aged 12 months in barrique. Lovely marzipan, spice and Golden Delicious apples and quince fruit. Ageworthy.
The 2008 Gran Cuvee Saten (Saten is the Italian version of Blancs de Blanc) is made from 100% Chardonnay, barrel-fermented, thus very delicate and it has great minerality, with notes of straw, peach, honey and walnuts yet has a steely full-bodied palate. Gorgeous.
The 2006 Grande Cuvee Pas Opere is zero dosage, lovely old vines with south and southeast exposures revealing a great gold color, astonishingly fine tiny but persistent bubbles with notes of wood, flower, vanilla and spice. This spends five years in the cellars before release.
Then to cap the tasting, the ultra-rare 2006 Vittorio Moretto (dedicated to the patriarch owner), made from 55% Chard and 45% Pinot Noir – it is only made in the very best years. Florals, creamy texture and a huge and long palate, this is meant for aging.
We only have one Bellavista sku in stock presently, you can try it for yourself – NV Bellavista Cuvee Franciacorta Brut (Lombardy, Italy) – $44.99

We were impressed with this selection, it is clearly in the league of fine Champagne, and obvious that Mattia Vezzola loves his job, and pours his heart into every bottling. What a lovely visit!