A half hour drive from Salerno through Avellino 4km east, we arrive at Atripalda, in Provincia di Avellino, in the Campania region where the famous Mastroberardino winery is located. I met with Export Director Lucrezia Bencivenga, who tasted wine with me, and provided a lovely cellar tour.
Mastroberardino is one of the largest wineries in all of Italy in terms of production, yet despite its size, the wines are firmly mired in the old world style that speaks of the land and soil. With a history dating back to the early eighteen century, the winery are pioneers and flag bearers for all of Campania and wines from this region.
The present-day winery was founded in Avellino in 1878 by Angelo Mastroberardino, and since then 11 generations have carried on – interestingly for the first time, the next generation will be two girls who are presently teenagers.
They spearheaded the DOCG classification for the Taurasi area in 1986, but they had the foresight to called their wines Radici to stamp themselves with a brand name which means roots. As many wineries called their wines Taurasi, only Mastroberardino calls theirs Radici.
While they are known for its production of Taurasi DOCG as well as its dedicated work in identifying and preserving ancient grape varieties like Greco and Fianothey, they are widely credited with bringing favorable critical attention to the wines of Campania, particularly for previously unheralded wines like Lacryma Christi, Greco di Tufo and Fiano di Avellino.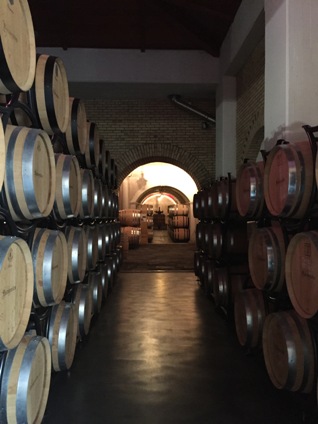 We tasted in their fabulous tasting room their famous Vesuvio based Lacryma Christi wines, white and red – the name of this wine is rooted in a legend where God cried when he found a corner of Heaven stolen by Lucifer and where his tears fell, there grew the grapes that make Lacryma Christi, translated loosely as "tears of Christ". The white is made from 100% Coda di Volpe grapes grown on volcanic soils, this wine is fermented in stainless steel to preserve its unique, fresh profile with a lovely pears and white flowery nose, with peach, licorice and minerality on the palate – try with a seafood risotto. The red is made from 100% Piedirosso grapes (the other red grape in the area) grown in volcanic soil near Mount Vesuvius and fermented in stainless steel. It has an intense ruby-red color, aromas of cherries and red fruit underscore notes of plums, raspberries, and black pepper and a slightly bigger feel of Pinot Noir. Refined tannins and good acidity make this wine rich without being overpowering , this is a unique red wine that is youthful and bright, but substantial. Both of these will be coming into the store in the late fall.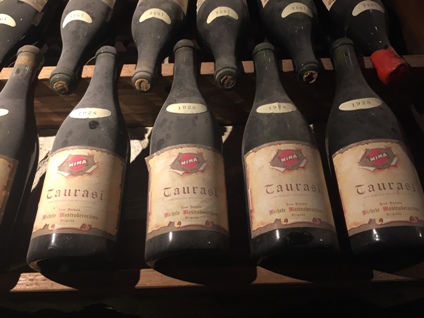 We currently carry only one Mastro wine (with several more on order now), it is the excellent Redimore, which is made from clones propagated by pre-phylloxera vines – thoroughly ignimatic.
2015 Mastroberardino Redimore (Campania, Italy) – $31.99
A link to the previous travel blog here..
Many thanks to Crimson Imports for setting me up with this visit!
Next up – Feudi di San Gregorio.