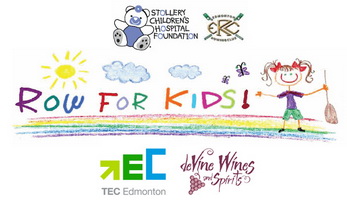 Guest Author: Noreen Hoskins of TEC
TEC Edmonton is participating for the first time in Row for Kids – Hardy staff and incubator tenants at TEC Edmonton have formed a crew of eight to challenge other corporate crews in a bid to raise funds for the Stollery Children's Hospital Foundation. Race day is on Saturday September 8, 2012.
Row for Kids is a joint fundraiser for the Stollery Children's Hospital Foundation and the Edmonton Rowing Club. While PCL Construction Management Inc. initially conceived the program, Golder Associates LTD is the lead for Row for Kids in 2012.
Racing! – I feel the need – the need for speed… (from Top Gun – as if you didn't know!)
Race Day is always a blast as corporate crews battle it out for the opportunity to raise their hands in victory forever immortalized (cue We Are the Champions). Telford Lake in Leduc, Alberta is the locale for head-to-head races on a 750-metre course. Face painting, Balloon characters, jumping castles – oh my! Bring the kids along because there's a lot to do at this family-oriented event.
Meeting the fundraising challenge: TEC Edmonton's WINE GRAB – What would be a race without handicaps? Teams earn three seconds off their race times (up to a maximum of 30 seconds) for each $1,000 they raise. TEC Edmonton is aiming to raise enough money to cushion their efforts – not that we need to, of course. Ergo: TEC Edmonton's First Annual Wine Grab. Philanthropic wine-lovers can enter to win up to four cases of wine. The cash proceeds of the Wine Grab go directly to the Stollery Children's Hospital Foundation. Here's how it works:
1. Peeps pay a $25 entry fee to members of the TEC Edmonton Crew to participate in the Grab;
2. Participants also need to purchase a bottle of wine to donate to the Grab: Any wine donated to the growing pool of wine (the prizes for the Wine Grab draw) must be purchased from deVine Wines & Spirits.
3. With each entry participants will receive a card containing a purchase code: Participants receive a 10% discount when they purchase their "wine donation" in person (must present card) at deVine Wines & Spirits or on deVine's website (must indicate purchase code in the 'Customer Comments box' to receive the discount) – devinewines.ca. Random draws will determine the winners of multiples of four cases (or partial for the last draw).
Please Note: A minimum purchase of $24.99 is required for the "wine donation". All bottles purchased for the Wine Grab will be safely stored at Devine Wines after purchase (i.e. you purchase the wines at deVine Wines but you don't take it with you). The more memberships you buy, the better odds of winning!
TEC Edmonton will have a table set up at deVine Wines on Saturday September 1, 2012 from 11am to 3pm. Come on down to purchase your tickets for the Wine Grab, and sample some wines in the process. Can't make it? Contact the TEC Edmonton Crew by email at tecwinegrab@gmail.com to inquire about participating.