Feast on Fourth is a new weekly event that showcases the numerous culinary destinations located on the 4th-St. Promenade. Feast on Fourth will be held every Thursday, beginning on June 25, 2020. Events will be held on each subsequent Thursday, rain or shine, up to and including September 4, 2020. We anticipate that this event will grow throughout the summer as businesses adapt their spaces and determine how they can best participate.
Feast on Fourth is an event that focuses on culinary and gustatory experiences. The event will allow restaurants to offer specials on existing menu items, or introduce new features. Keep your eyes peeled for the many drink specials that are sure to come. Restauranteurs will be looking at ways to safely use their extended patio spaces and/or bring action cooking stations out onto the street. We are eagerly looking forward to seeing what our restaurant neighbors feature in upcoming Feast on Fourth events!
Many additional 104th-St. Promenade retailers have expressed an interest in participating in or supporting Feast on Fourth. They are currently working on ways to welcome back customers and support the street community at large.
Businesses that have confirmed their participation in Feast on Fourth for the June 25, 2020 inaugural event include:
deVine Wines & Spirits
Careit Urban Deli
Say Uncle
A Bite of Brazil
Cavern
Ono Poke
Cask & Barrel
Ed Fong, one of the partners at deVine Wines commented, "Feast on Fourth will allow the many independently owned small businesses and restaurants to come together to celebrate the culture of food and drink in a safe, responsible and fun manner. Members of our business community want to demonstrate how we are all adapting to the "new normal" in the safest way possible. We are looking forward to seeing our neighborhood come back to life, but in a well-managed manner. For patrons who do not yet feel comfortable dining in, there will be options for takeaway, curbside pickup or delivery available at many establishments. The businesses on 104th-St recognize the challenges many of us face during these times, and want to acknowledge their valued customers with a wide range of specials to say a collective Thank You. We hope to see you at Feast on Fourth this summer!"
deVine Wines & Spirits will be participating in Feast on Fourth by extending special pricing on select wines up to 20% off. Here is what we will be offering over the next three weeks.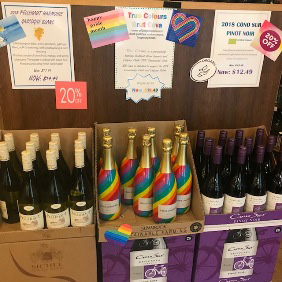 Specials are valid while quantities last. No rainchecks please. We reserve the right to limit quantities. No other discounts can be applied to the special sale price.
July 11 to July 24
2017 Muller-Catoir M-C Scheurebe (Rheinpfalz, Germany) – Regular Price: $26.99, Sale Price: $21.59
2017 Zorzal Old Vines Garnacha (Navarra, Spain) – Regular Price: $18.99, Sale Price: $15.19