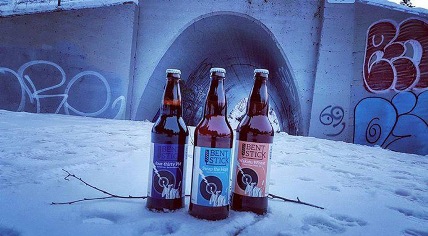 Author: Dirk Chan
We love to support local, and the latest, newest nanobrewery in town is Bent Stick Brewing, formed by Scott Kendall, Kurtis Jensen, Patrick Gaudet and Ben Rix, all formerly of Alley Kat Brewing.
Their facility is in a small industrial space in the northeast of the city with not enough space to do a tasting room or retail space so their production is currently only 650mL bomber bottles.
All this would not have been possible three years ago, but with the relaxation of AGLC rules regarding minimum capacity, Bent Stick came to fruition. The advantage of being small is it allows for a constantly changing selction of beers available to the public. It allows the brewmasters to be flexible, with no mainstays, regularly putting out new beer and only circling around once in a while, thus there is a sense of urgency to try it as soon as it is released, knowing it won't be around for a long time. Their beers will be bottle-conditioned (a small amount of yeast that provides additional fermentation and maturation whilst in the bottle, leading to a much deeper character and flavour, and a natural, soft carbonation, rather than the forced carbonation), a rarity in the beer world. Their thoughts are to release a new beer every month or so.
Graphic courtesy Bent Stick Brewing, used with permission. Pictured left to right:
Bent Stick Four Thirty P.M. Stout (Alberta, Canada) – $7.49
Bent Stick Swap the Hops Pale Ale (Alberta, Canada) – $7.49
Bent Stick Wakatu Wheat Ale (Alberta, Canada) – $7.49
Additional offerings available at deVines:
Bent Stick Hearty Farm Stock (Alberta, Canada) – $7.49
Bent Stick The Crusher ISA (Alberta, Canada) – $7.49