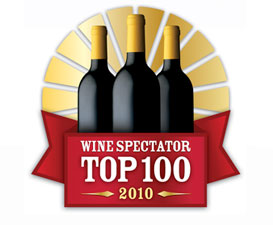 Author: Dirk Chan
The popular American Wine publication, The Wine Spectator, unveils its Top 100 Wines of the Year at this time of the year. Upon reviewing 17,000 in 2010, this list sends wine afficionados into a frenzy searching for the wines that made the grade. There is a panel of writers from the magazine that get together to decide on this list, so it emcompasses the palates and influences of not one person, but many critics and thus is eclectic.
The theme again this year is American domination with 14 wines in the top 20 and 25 wines in the top 40. While I agree there are fine wines coming out of the States, especially from the superb 2007 vintage, it is not the only country making good wines and the measly representation from Portugal, Chile and South Africa is sad to see. The American economy needs all the help it can get and this is evident to me here.
The pricing trend in the list appears to be valued driven wines at one end, and ultra-premium expensive wines at the other. Unfortunately, most of the American highend wines are of small production and not readily available here. I'm disappointed again there is not a single Canadian wine in the list, we produce some lovely inexpensive whites that certainly qualify for the value-driven category, no? My griping is done…
What is available from this year's list is the smallest since deVine's inception and some wines are the wrong vintages. What is available for purchase is limited and selling very fast, so please grab yours early. Click the link below to see the available wines here..
Also, please don't forget to sign up for our Wine Spectator Top 100 tasting scheduled for January 15th, 2011, we are holding two or three wines just for that tasting and you will only be able to purchase those if you are in attendance that evening.