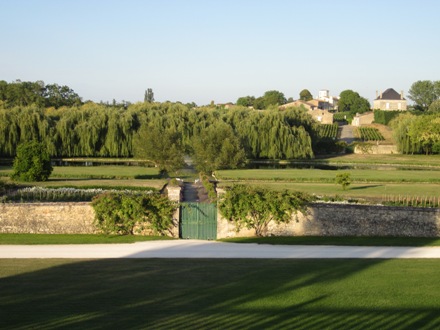 Author: Dirk Chan
We had the pleasure of having dinner at the famous First Growth estate of Chateau Lafite-Rothschild in the commune of Pauillac. Lafite is the hottest First Growth on the market these days, with prices in the stratosphere due to the Asian demand – even their second and subsidiary wines are commanding huge prices. You can tell there's money here, the grounds (pictured) are immaculately manicured, with everything in its right place. From the reception held on the largest grounds of any visit on this trip, we strolled around and admired the scenery while enjoying the first class appetizers before being led into the cellars for a long ten minute walk. The barrels are held in a gigantic circular shaped cellar that reminds of something from the Roman times with its antique look, huge height and ornate pillars.
The dinner reception was held in an highly decorated room with photographs of all the important people associated with Lafite past and present, including one of the Lafite representative sitting at our table, longtime General Manager Charles Chevalier (pictured below). A charming man who spoke very good English. Dinner for the 110 total guests was superb despite the heat (I sweated bullets in a suit), and the featured wines were exquisite, 1983 Lafite Rothschild (ever changing and so elegant and still young), and the dessert wine was a sublime and again young 1986 Chateau Rieussec (beaucoup de botrytis and exotic white fruits like peaches, nectarines and pineapple), both served from magnum.
Sandwiched at the head of the event, we also had the pleasure to taste the wines from the other estates of Lafite Rothschild – including the very nice Chateau d'Aussieres from Corbieres (a Syrah, Grenache, Mourvedre and Carignan blend from Southern France), a superb Bodegas Caro (a collaboration between CAtena of Mendoza and ROthschild), and finally the Le Dix de Vina Los Vascos from the Colchagua Valley in Chile (in commemoration of 10 years of Lafite's work in Chile).
This was another memorable night..