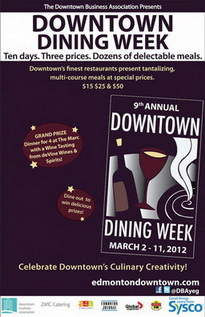 Author: Ed Fong
From March 2-11, 2012, the Downtown Busness Assocation presents the 9th Annual Downtown Dining Week. This is foodie heaven time because for $15, $25 and $50, the participating restaurants will be offering fabulous custom menus for these affordable prices. Make your reservations early to avoid disappointment as with each passing year, the event gets more and more popular with savvy diners.
Dine out to win awesome prizes, including the Grand Prize of a multi-course Dinner for Four at The Marc, with matching wines by deVine Wines & Spirits. You will receive a secret code with your bill at a participating restaurant, which can be entered at the Edmonton Journal Contest Page .. here..
Some of the best restaurants in town are involved. Check out the participating restaurants and their respective menus here.. here..
Visit the Edmonton Downton Business Association website here..