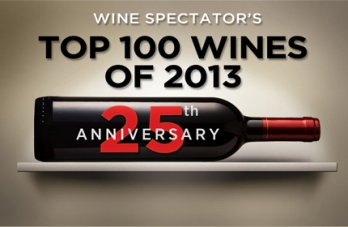 Author: Dirk Chan
Since 1988, the popular American wine publication Wine Spectator has unveiled their Top 100 list of the most exciting wines of the past twelve months. This year marks the 25th anniversary of the Top 100. Having reviewed 20,000 this year, the list came earlier this week with twelve countries represented (sorry Canada, none for you again).
It has become very trendy to acquire the wines that made the grade. The average score on the wines on this list is 93 and the price per bottle this year being $51 (very high). Again this year, the list is American dominated.with no less than 37 wines from south of the boarder. Most people are surprised with #1 being a Spanish wine, alas I applaud that selection as Spain is a hotbed of great winemaking at reasonable prices.
The availability of Top 100 wines this year is better than last year, we have eighteen wines for you to choose from. However, most are limited, so grab them sooner or later for some will run out well before Christmas. See the available Top 100 wines here..
Please also consider our annual Wine Spectator Top 100 tasting in early January – more info and registration here..