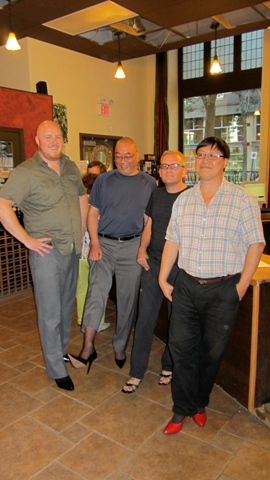 Author: Ed Fong
It's time to dig out those heels again, boys!

On October 24, the men of deVine will once again don their stilettos in support of the YWCA's Walk a Mile in Her Shoes Campaign. All gross proceeds will be donated to the YWCA in support of their Family Violence Prevention and Recovery programs.
In the spirit of this fundraiser, Ed Fong will lead a team of "divine guys" who will serve you vino in their sexiest heels all evening long. We're "man enough" to stand up against family violence. Are you? Please come out and show your support for a great cause.
Italy will be the theme of the evening, as Italians do produce the most fabulous, fashionable footwear in the world. Everyone is encouraged to come out in their finest Italian clothes, shoes and accessories! A selection of Italian cheeses and appetizers will be served. Can anyone say "Arancini" from Corso 32??
Seven fantastic Italian wines will be showcased at this stand-up event: a Prosecco to attenuate your taste buds and set the mood, two whites, three reds and a dessert wine. Tickets to this fundraiser are $30 each. If you would like to see the complete wine menu and/or register for this event, please register here.. Reservations can also be secured by calling the store at 780.421.9463.
Our goal is to sell a minimum of 60 tickets to raise $1,800 for the YWCA to help women and their children take steps to walk away from family violence.
If you cannot attend the event but would still like to make a donation to the YWCA, please follow this link:
https://payment.csfm.com/events/ywca_edmonton/visitor/?action=profile&participant_id=721661541377282245..
To learn more about the Walk a Mile in her Shoes Campaign, please visit the YWCA's webpage at:
http://payment.csfm.com/events/ywca_edmonton_pages/page.php?p=home..

If you want to help break the cycle of family violence and help keep women and children safe, you too can register for the walk at Churchill Square on September 10 from 11am-1pm
Lastly, I would like to challenge the men in my industry to take a stand against family violence. If you own a wine or liquor store, a licensed establishment or you are a liquor agent, please join me in this cause. I would love to see your male competitive spirit top my own fundraising goals. To you, I throw down the gauntlet! Are you man enough to stand up to me, in heels!