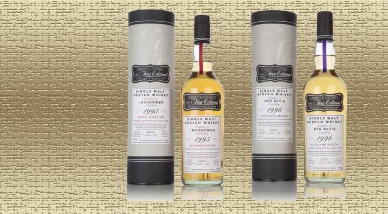 Author: Dirk Chan
deVine welcomes Lee Hanson of Barrel Hunter Import & Brokerage Ltd for our annual Top Drops Scotch Tasting on Saturday, November 3rd at 7pm – $55. Lee will have with him a very special guest – Andrew Laing, Export Director of Hunter Lang & Co, the unrivalled blenders and bottlers of the special First Editions scotches that we will be tasting.
Founded in 2010, the origins of First Editions are rooted in the decades spent growing up in and around the scotch whisky industry, and with the respect and passion for the spirit this history has instilled. With a label inspired by the classic elegance of an antique manuscript, the First Editions brand is the mark of quality which appears across the core range of single-cask bottlings of malt whisky.
They review their maturing stocks on a monthly basis, drawing samples from casks that may be ready for bottling. Always mindful of the benefits of a whisky being from just a single cask, they will bottle it when it is at its best for drinking rather than being influenced by "round" ages such as 18, or 25 years old. The First Editions bottlings are always at cask-strength and, naturally, without artificial colouring or chill-filtration.
We strongly encourage you to attend (and bring a friend), this is a giveaway tasting given the quality of the drams presented. A not-to-be-missed event even if you're remotely interested in discovery about rare and expensive Single Malts.
More information and to register for the tasting, click here….