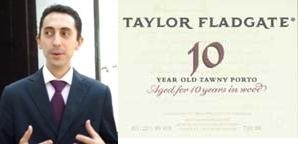 Author: Dirk Chan
deVine and Pacific Wines & Spirits are thrilled to have Jorge Ramos, Export Director of the Taylor Fladgate Partnership in the store for a sitdown Port tasting on Thursday, November 7th at 7pm.
Jorge (pronounced George) is in town to promote the newly arrived 2011 Vintage Ports from his houses of Taylor, Fonseca and Croft. The 2011's are being hailed as the greatest Vintage Ports since 1994 and in the league of the legendary 1963's. Come and listen to Jorge talk about his passion for his native Portugal, specifically the Douro Valley (a world heritage UNESCO site), the houses that he represents, the grapes (Tourigas Nacional, Francesa, Tintas Francesa, Roriz, Barroca, Cao and Amorola) and other interesting historic anecdotes and facts (did you know Taylor was founded in 1692?).
We'll be sampling a wide range of port styles from Pink, white, tawny, Late Bottled Vintage, Single Quintas and a surprise Vintage Port as well. The weather is cooling off, and what better way to fend off the cold nights than a glass of port. Tickets are $40 and selling fast with only a few seats left, so please book online asap to avoid disappointment. This is not to be missed for those interested in learning about Portugal's greatest export.
Book online for the Jorge Ramos port tasting here..