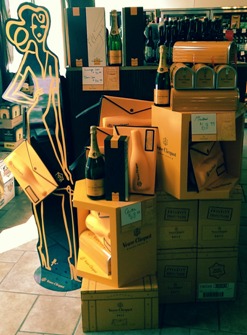 Author: Kandice Little
"Veuve Clicquot", a name that is synonymous with creativity, has done it again. Founded in 1772, the Clicquot house has stuck to one motto: "Only one quality, the finest". Barbe Nicole Ponsardin took over the business at 27 following the untimely death of her husband, and since that time, there is a definitive and fashionable flair to the packaging.
The natural boxed packaging that Veuve comes in is completely sustainable and eco-friendly, using only paper from forests under management of the Forest Stewardship Council. Also notable is the fact that since 1987, Veuve Clicquot has been part of the Louis Vuitton Moët Hennessy group of luxury brands. You can catch glimpses of this pairing with certain packaging choices. As you may remember from last year, we brought in the yellow Veuve Clicquot bicycle that was won by one lucky store-goer, and both the Non Vintage Brut and Rosé came in small refrigerators which aided in keeping the Champagne cold (as well as adding a stylish edge!)
This year we are met with even more fashion-forward choices! deVine's just got in our shipment of Veuve Clicquot Clutches AND Veuve Clicquot Mailboxes! The clutches pay homage to the stylish envelope clutch, except with raised contours to hold the 750mL bottle of Champagne! Not only does this packaging look good, it aids in keeping the bottle cool for up to one hour! The VCP Mailbox gives a nod of acknowledgement to vintage American mailboxes. Lightweight serrated metal, with a rounded top and functioning door, the cherry on top has to be the moveable red flag.
Looking for something a little different than the 750mL Non Vintage varieties of Veuve? We also carry the 375mL bottle of the Brut, and we carry the full sizes of the following variations: 2004 Veuve Clicquot La Grande Dame, Non Vintage Veuve Clicquot Demi-Sec (a slightly off-dry version of the regular bottling), 1989 Veuve Clicquot Cave Privée Rose, 1990 Veuve Clicquot Cave Privee Blanc, 2004 Veuve Clicquot Brut, AND the 2004 Veuve Clicquot Rosé.
Feel free to stop by deVine Wines and Spirits to view not only our Veuve Champagne options, but our extensive array of other Champagnes and Sparklings as well!
NV Veuve Clicquot Brut (375mL format) – $35.99

NV Veuve Clicquot Clutch Brut – $68.99

NV Veuve Clicquot Mailbox Brut – $68.99

NV Veuve Clicquot Demi-Sec – $74.99

2004 Veuve Clicquot Vintage Reserve Brut – $94.99

2004 Veuve Clicquot Vintage Rosé – $99.99

2004 Veuve Clicquot La Grande Dame Brut – $254.99

1990 Veuve Clicquot Cave Privée Brut – $259.99

2004 Veuve Clicquot Cave Privée Brut Rosé – $319.99