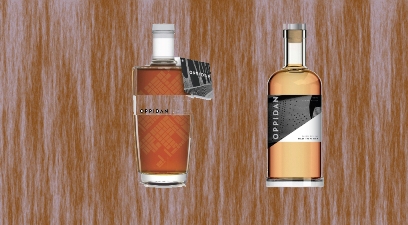 Author: Dirk Chan
Oppidan Spirits is a trending 'micro-distillery' formed in 2015 and based in Wheeling, Illinois. Their focus here is a purists' model, aiming to reveal all that make the whole. Two new award winning releases have landed in Alberta and we're happy to present them to you.
First, the after dinner Solera Aged Bourbon, relatively unique in the bourbon world given the solera approach of drawing from casks which are never really emptied (alla Sherry or Tawny ports). Oppidan Bourbon is distilled from a rather unique five-grain mash bill consisting of corn, malted rye, chocolate malted rye, special B crystal malt, and 2 row barley. From there, it is aged for an undisclosed length time, according to the distillery, "across 3 different wood types: American oak, French oak, & Oloroso sherry casks. The French oak & Oloroso casks are never emptied, creating continuity & increased complexity over time."
Second, the Barrel Reserve Old Tom Gin. Starting with their standard gin, a smoke element is added with barrel aging. Then, grapefruit peel was smoked over pecan wood, giving a nice smokey candied pecan note to the gin. From there, the gin was aged for 3 to 5 months in a combination of new and used cooperage to give a nice round oak flavor without dominating the spirit. Lastly, cold smoked maple and agave syrups transform the gin into an old tom gin and punch up the smoke profile. Sounds as good as it tastes.
Both of these bottlings were medal winners at the 2017 American Craft Spirits Awards:
Oppidan Distillery Solera Aged Bourbon Whiskey – $76.99
Oppidan Distillery Barrel Reserve Old Tom Gin – $59.99