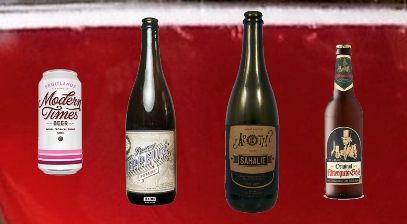 Author: Dirk Chan
Sour beer is the rage these days – it is essentially beer which has an intentionally acidic, tart or sour taste – popular styles include American Wild Ale, Berliner Weisse, Gose, Flanders Red Ale, Lambic and Oud Bruin – there will even be a $50 one we'll be tasting!
The main flavor of a sour beer is tartness, like a strawberry or lemon. But many sours also have a "funky" taste that some say smells like a horse blanket or a barnyard but there is certainly some major pucker power here.
Because of the uncertainty involved in using wild yeast, the sour beer brewing process is extremely unpredictable. The beer takes months to ferment and can take years to mature.
The increasing popularity of sour beers, combined with the fact that they're challenging to make, available only in limited quantities, and expensive, makes them desirable. And as more beer lovers learn about them, they are sharing their knowledge with other drinkers, further triggering the trend.
We are thrilled to have Jim Phelan of Untapped Craft Imports here to lead our Sour Power tasting – don't miss this Thursday night stand-up event.
More info and to register for this event, click here