Author: Dirk Chan
Well, here's one for the ages. Myself, Marc Vigneron of Nobilis Wines (pictured with yours truly, who supplies all of deVine's right bank Bordeaux futures) and David Dienger of Zyn in Calgary were amongst the 90 guests invited to a special VinExpo lunch at the home of Christian Moueix (of Petrus, Lafleur Petrus, Trotanoy, Hosanna, and Dominus fame). We started with a barrel sampling at the Libourne estate with the 2010 Magdelaine, Belair-Monange, Latour a Pomerol, Providence, Hosanna and Lafleur-Petrus in that order. The latter was simply AMAZING! (freshly picked flowers, and a liquid velvet palate that lingered on and on) and a must buy for the vintage, and the others were nothing short of pretty stunning themselves!
Then we drove up to Mr. Moueix's beautiful home, where we were led into a tent to start things off with a vertical of Chateau Trotanoy, vintages 1998, 2000, 2002, 2005, 2008 and from barrel, the 2010. The 2002 surprised us by drinking the most beautiful of them all at the moment, while all the others required more time. The 2010 is special and will be ranked alongside the already legendary 1998 which showed the most power of the entire flight.
From there, we were led to the entrance of the courtyard next to the home and met with Bollinger Champagne before officially being greeted by Christian and his wife Cherise, son Eduardo, long-time legendary winemaker Jean-Claude Berrouet, and we then sat at the lucky #8 table where I got the pleasure to sit next to Michel Gillet, the estate manager for all the Moueix stable of estates since the late 1960's. Despite my no doubt bambling and broken French, we managed to carry on a conversation about the Moueix estates, great vintages (he considers the greatest Moueix vintages of the last quarter century to be the 1982, 1989, 1998, and 2009) and the fact that great wine is meant for drinking and that the 2011 looks like will be the earliest picked vintage since 1893!
To the best for last, the four course lunch was prepared by none other than the legendary chef Michel Guerard, the founder of nouvelle cuisine, and the owner/proprietor and chef of the famous Les Pres d'Eugenie which has garnered and maintained their three Michelin stars standing since 1977! Without doubt, the most amazing lunch I've ever had and the food I must say overshadowed the exquisite but young 2005 Hosanna, and a pretty stunning and drinking beautifully 1998 Lafleur-Petrus, both served from magnum.
Enough superlatives, but a priviledged day indeed and totally unforgettable. I feel honored and humbled to be invited, thank you Marc!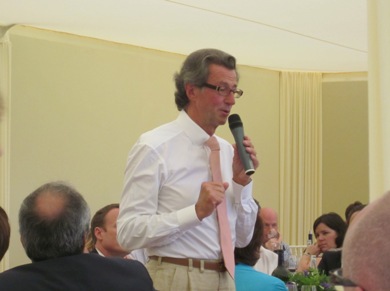 2008 Ch. Latour a Pomerol