Author: Dirk Chan
What a way to start off the day but with a visit to the First Growth estate of Chateau Margaux in the appellation of Margaux.

There is certainly a noticeable amount of grandeur associated with the big estates, the grounds are bigger, the vineyards bigger, the reception area bigger, even the parking lots are all a cut above the rest. Pictured above is the chateau itself and one of its cellar. I guess we now know where our patronage has been spent. Formality must be adhered to here, traditions respected – jeans and cutoffs and tardiness are a big no-no. A jacket for the men a requirement, and yes, bring lots of business cards.
After a tour guided visit, we were privileged to be greeted by Paul Pontellier, Manager and winemaker of the renown estate for twenty years who tasted with us the 2010 Pavillon Rouge – very fine, not $100+ fine, but well made. The 2010 Chateau Margaux Grand Vin was closed in my book, but classy with cashmere tannins and a light footed yet full-bodied palette. Didn't wow me I must say, completely impossible for me to evaluate at this young age – its not every day we get to taste a First Growth from barrel. I guess we'll defer to the 'time will tell'.
Mr. Pontellier said they are open to new technologies but will only move to changes as such only upon thorough and rigorous trial and evaluation – on things such as biodynamics, stelvin enclosures, individual plot fermentation etc.. The house is mired in tradition – they employ a full time cooper who builds 20% of their own barrels (cooperage area pictured below along with Mr. Pontellier).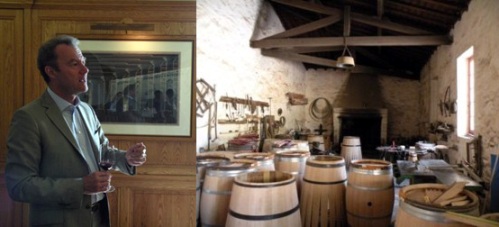 Upcoming blogs include a stellar lunch at Branaire-Ducru and then visits to the two Leoville's..