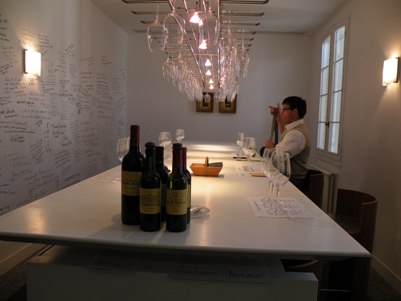 Author: Dirk Chan
A map of how the original Leoville estate that has separated into the three Leovilles as we know it today (Barton, Las Cases and Poyferre) is most intriguing. If one could be a fly on the wall when the division of the estate occurred would have been fun. The Poyferre holdings are spread wide and far in the St. Julien appellation (they say each plot gives extra dimension to the wine) but it must a be a lot of work for the vineyard staff and for consultant oenologist Michel Rolland to manage.
Proprietor Didier Cuvelier was not present but we tasted with his cousin Anne (pictured below), a very jolly and happy lady who welcomed us and told us that Didier's work over the last 25 years at Poyferre has really seen the rise of the estate, no longer the last of the Leovilles. What a high tech tasting room we were escorted to, very clinical in its black and white. The spit bucket opens like a clothing drawer under the tasting table (pictured above), and there is a flush button per person to dismiss the spit. There is a dedicated wall with comments from famous wine personalities around the world.
Poyferre and Las Cases share one common vinification cellar, the left part of the cellar is Las Cases' (windows painted white), the right part is Poyferre's (painted vanilla yellow), the underground pumping system cris cross in an 'X' formation to the respective fermentation rooms across the street.
As for the tasting, I was very impressed with their estate called Le Crock, a tiny little known vineyard in St. Estephe that is surrounded by Cos d'Estournel on one side and Montrose on the right (how great is that?) – very impressive 2010 that I will have to try to hunt down, never seen it before. The 2010 Poyferre was refined, suave yet structured, not the biggest wine from the vintage, but balanced and a true vin de garde that reminds of a cross between 2003 and 2005 but with even more structure.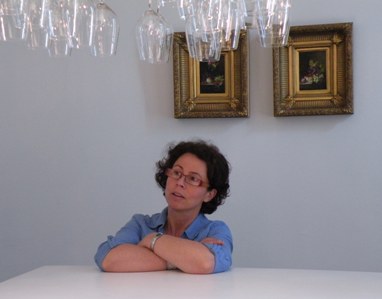 I'm thinking the fruitiness is hiding the structure – a beautiful wine! Funny how the three Leovilles are quite different, the uncompromising Barton with 30 years plus aging required, the surprisingly approachable Las Cases (yet sure to be long-lived), and the elegant but a true St. Julien that is the Poyferre.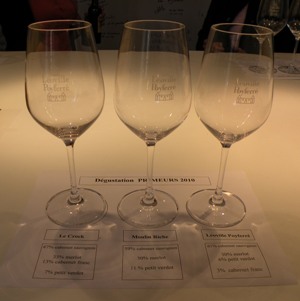 Tomorrow, Chateau Pichon Baron..