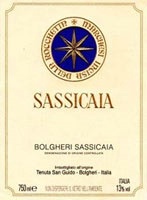 Author: Dirk Chan
The Tenuta San Guido Sassicaia is the original Super Tuscan, produced from Cabernet Sauvignon and Cabernet Franc vine plantings obtained from the famed First Growth Bordeaux Chateau Lafite of Pauillac fame. The early vintages were kept for private consumption, but in 1968, the first commercial release to the international world signified the arrival of the Super Tuscan, and it has never looked back since. Located in the Bolgheri coastal region of Tuscany in Central Italy, it commands the respect and admiration the world over, and along with Solaia and Ornellaia are regarded amongst the best wines from Tuscany.
Sassicaia, which in the Tuscan dialect means 'stony ground' was the lightning rod that signal the viability of Bordeaux based reds in Tuscany. It's success was immediate and influential in Italy being regarded as a top wine producing region. One of the first cult wines, the legendary 1985 has been lauded as amongst the ten greatest wines made in the last century. While Ornellaia has been generally acknowledged as the most consistent over the last 20 years, when Sassicaia does it well, it hits it out of the park, and the 2007 is such a wine, ranking alongside 2006 as the greatest Sassicaia made since the 1990, 1988 and of course, the 1985.
In a great vintage, we suggest 10-12 years of cellaring before opening one and longer of course for the even bigger bottles.