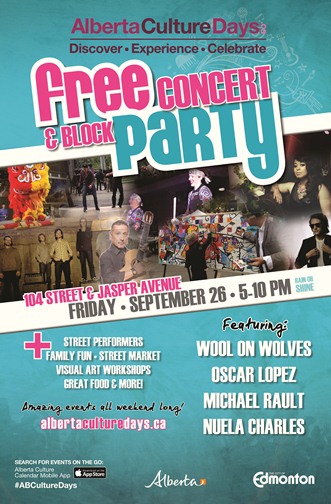 Author: Ed Fong

In celebration of Alberta Culture Days, the 104th Street Promenade is playing host to a FREE outdoor concert and block party on Friday, September 26 from 5-10 p.m. Come on down and enjoy the extended patios, great music and more!
Alberta Culture in partnership with the City of Edmonton and 104 Street Steering Committee will once again be using the 104th Street Promenade to host a block party and kickoff Alberta Culture Days 2014 on Friday, September 26, 2014 from 5:00 to 10:00 pm.
The block party will feature performances by Wool on Wolves, Oscar Lopez, Michael Rault, and Nuela Charles, as well as feature family friendly activities, a street market, visual art workshops, street performers, food trucks and more.
The 104 Street Promenade, between Jasper Avenue and 102nd Avenue, will be closed to traffic on September 26, from 9:00 a.m. to Midnight. Everyone, please ensure there are no vehicles parked along the street to allow smooth site setup.
A big thank you to local restaurants, Blue Plate Diner, Kelly's Pub, Cavern and Tzin for embracing Alberta Culture Days and taking part in the block party by extending their patios.
Tell all your friends and we will see you all Friday.