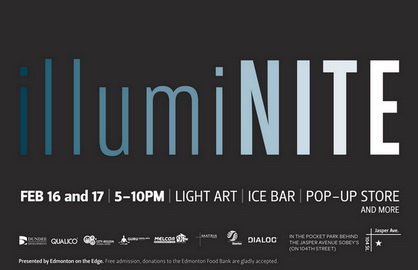 Guest Author: Michael Phair
IllumiNITE 2013 is this weekend, Saturday Feb. 16 and Sunday Feb. 17. On both days the event runs from 5-10pm both in the Alley of Light (the alley behind Sobey's) and on 104th street.
IllumiNITE will again host 10 sculptures of light in the alley, a light show produced by GURU on the Armstrong Building on 104th street, an ice bar at Crock and Barrel, Fox & Finery Pop-Up Market in the Armstrong Building, along with bannock making, hot chocolate and Fat Franks!
Saturday's opening will take place at 6pm by the entrance to the strip park with an annoucement of the 1st, 2nd and 3rd place winners of the sculptures of light.
IllumiNITE is thankful to the many sponsoring businesses and groups that has help make this event successful.
Admission is free, with donations to the Edmonton Food Bank gladly accepted.
Please come out and enjoy this Edmonton Winter Event– IllumiNITE Year 2!