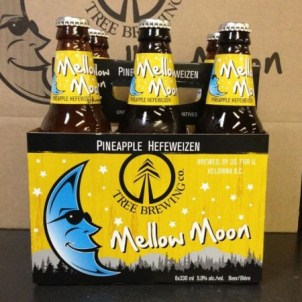 Author: Kelsey Trites
Summer is coming to an end, and for all you beer enthusiasts that means that the season of summer beers is also wrapping up. No more citrus. No more hefeweisens. No more 4.5% alcohol. Soon the season of porters and ales will be upon us; a grueling six months of boots, Netflix and talking about the weather.
The good news is deVine's still has a healthy stock of summer goodness. Fire up your BBQ's, put ice in your coolers, and come down to deVine Wines and Spirits to pick up a 6-pack (or two) of summer beer. Here are a few suggestions to make it even easier for you to enjoy the seasonal bliss.
1. Tree Brewing Mellow Moon Pineapple Hefeweisen (6 bottles) -$14.49

This quirky beer comes from Kelowna, BC and may be the most adventurous of the bunch. It's hazy, golden hue promises true hefeweisen style with citrus, cloves and a pleasant, dry mild hop finish. A pronounced pineapple flavor humours peculiar pairings such as ham and pineapple pizza, lemon meringue pie and any spicy Indian food.
2. Granville Island False Creek Raspberry Ale (6 bottles) – $15.49

As the saying goes "Real men drink pink", and so can you as this summer brew has a fabulous raspberry pink hue. The brewery uses Fraser creek raspberries which give the beer a refreshingly tart flavor without a sugary sweet quality. Granville recommends a perfect pairing of summer salads, fresh air and sunny afternoons.
3. Whistler Paradise Valley Grapefruit Ale (6 bottles) – $14.49

Grapefruit beer has been the popular kid of the summer with brands like Alley Kat and Stiegl Radler leading the pack. Whistler brewing has done their version of this citrus beer with dried grapefruit rind and two kinds of hops. This summer bevy promises to be a refreshing pairing for curries, Asian dishes and all the hippest parties.
A couple other summer seasonal beers that you can find at deVine Wines and Spirits are:
Gahan Blueberry Ale (4 bottles) – $15.99
Alley Kat Summer Squeeze Grapefruit Ale (6 bottles) – $15.99

and Parallel 49 Hay Fever (6 bottles) – $15.99

So whether it's your last trip to the lake, a special treat after the Saturday market, or just a refreshing drink after mowing the lawn, get your hands on some summer beer. Unlike the mosquitos and road construction, these seasonal sippers will be missed.