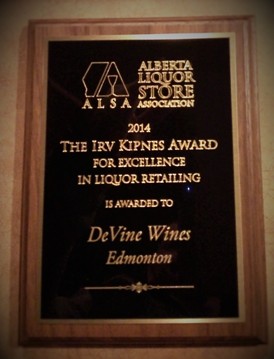 Author: Chad Gascho
Back in earlier days, when we first had a vision of what deVine Wines would be, we couldn't have imagined so many things – our amazing customers, the ability to bring great wines and spirits to the city that we love, and, more recently, being given an award that bears the name of one of the giants in our industry here in Alberta.
On September 30, deVine Wines received the Irv Kipnes Award for Excellence in Liquor Retailing. This honour, bestowed upon us by the Alberta Liquor Store Association (ALSA) was a moment for us to take a deep breath and realize how far we've come. This award is given to the store that encompasses all that a liquor store should represent – from a diverse product selection, store ambiance, excellent customer service, marketing, online presence, and representation in the community.
We're grateful for this award, given to us by ALSA, the group that helps ensure equitable, fair, and consistent representation for liquor retailers in Alberta, is momentous; and we're pleased and proud to be a part of the membership of such an effective advocate in our province. Being nominated for this award by the vendors and product representatives that help us give you the best products we can only serves to make it even more special, and we'd like to thank them for their support. However, the thing we cherish most about winning this award is that it reminds us that we are able to do what we love because of you, our customers.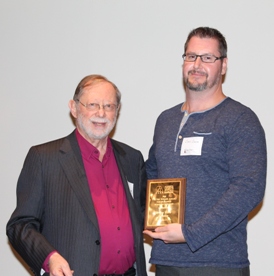 Back in our early days, there was a certain amount of risk and uncertainty when we first envisioned what a fine wine, craft beer, and spirits boutique in the heart of downtown Edmonton would look like. We came together, and with hard work, sweat, hope, and a lot of sleepless nights, we opened for business on February 28, 2005. It was with baited breath that we opened our doors to the first customer, and, thankfully, we've been going strong ever since.
However, it wasn't until we received a similar version of the Irv Kipnes award in 2006 that we realized we, in all probability, had a good shot of making our vision of success a reality. Back then, the award was named the ALSA Edmonton and area liquor retailer of the year award, but it meant just as much to us then, if not more, than it does today. It meant that we were doing something right. It meant that our customers were able to find products that they loved; and, quite possibly, were introduced to some new wines, craft beers, and spirits that they hadn't previously encountered, and would be back for more. It meant that our relationships in the industry were valued by more than just us. It meant, that for the time being, our vision, our business, our dream was a success.
Forward to present day, and to finding out that we had once again been nominated for another prestigious award, but this time, it was named after a legend in our business. Forward to finding out that we had won, that we had once again been given the recognition of our peers as having provided an atmosphere that allows our products, our staff, and mostly, our love of our work, to shine. There is no greater achievement than knowing that all of our hard work paid off and that we are still able to provide you with a store that you love to come and visit. A store that can provide you with the top notch wines, beers, and spirits that you choose to bring to your family, your friends, your tables, and your most special occasions. A store that stays true to the vision we had almost 10 years ago; one that we know wouldn't be what it is without each and every one of you.
So, while we are extremely grateful to the ALSA, to our product representatives and vendors, and to Mr. Kipnes, our gratitude must be expressed mainly to two very important groups of people. The first is our wonderful employees – without their knowledge, dedication, commitment, and drive to provide outstanding customer service, we could never hope to win such an award. The second is you – our customers. Without your continued support we would not be able to come to the store that we love and do what we do every day. You continue to inspire us to provide you with the best that we can, from our website, to our staff, to our products, to our relationships with you. In reality, this award belongs to you all, and we're honoured to be able to share it with you. For winning this award, and for helping us make our dream an award-winning reality, we thank you. Your support continues to inspire us to provide you with the deVine Wines that you (hopefully) love.