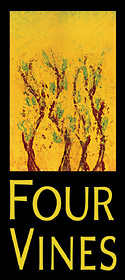 Author: Dirk Chan
As per other years, deVine will be hosting at the store a California wine tasting as a warm-up precursor to this year's California Wine Fair at the Shaw Conference Centre in support of the Citadel Theatre slated for Thursday, March 5, 2009.
We will be tasting over seventy wines this coming Saturday, February 21 from 11am to 5pm, all of them different than what will be served at the main event – it is a great way to wet your appetite for the main event.
The $10 entry fee will be donated to the Zebra Society of Edmonton in support of abused children in our city. This is a drop-in stand-up event, but if you want to pre-register, you can do so online.
A decade ago, California wines were at the top of the heap and the rage, but countries like Australia, Chile and more recently Argentina, Spain and Portugal have been producing great wines for under $20 that California producers are now having to produce a better product in order to compete with these upstarts. There is no doubt that for immediate appeal, the California wines are wonderful – the Zinfandel has pretty much cornered the market and are tremendously juicy, upfront and wonderful with the barbecue. The Petite Syrah and Syrahs are unique too, while the Pinot Noirs can be excellent (though rarely inexpensive). Finally, the mainstains are still the Chardonnay and the Cabernet Sauvignon.
If you are able to drop in next Saturday, come earlier rather than later to experience the joyous wines from this world famous wine producing region – a ray of sunshine on a winter's day! Here is the list of wines we'll be tasting: http://devinewines.ca/event.html?id=345
Don't forget to purchase your ticket to the offical California Wine Fair: http://www.citadeltheatre.com/events.php?eventid=706&cat=34