Author: Ed Fong
At deVine Wines, we been working feverishly to help bring back Al Fresco, the 104th-St. block party and fundraiser. This year, the event will take place on Saturday, August 22. Funds raised will benefit Edmonton's Food Bank and community development initiatives.
Dirk Chan, shared a few of his thoughts with us. "With the downturn in the economy, more and more people are turning to food banks to sustain themselves. We wanted to help the 104th-St. community raise funds and awareness for the Edmonton Food Bank so they can keep doing the great work they are challenged with."
Here is how you can help us help the Food Bank when you come down to enjoy Al Fresco:
Donate Food
Patrons coming down to Al Fresco can help by bringing food items with them. Food can be dropped off at any of the following locations below. Fresh food can be dropped off at the Farmers' Market Information Tent located at the intersection of 104th-St. and 102nd-Avenue.
· deVine Wines & Spirits
· Earth's General Store
· Mercer Tavern
· Shoppers Drug Mart – #62, Edmonton City Centre East
· Edmonton Downtown Farmers' Market Information Tent
Food can also be dropped off at deVine Wines, Earth's General Store, Mercer Tavern and Shoppers Drug Mart (Edmonton City Centre East) at any time before the event.
ATB Financial is also accepting food at the following three branches until August 29:
· Edmonton City Centre: D127, 10200-102nd Avenue
· Oliver Village: 11366-104th-Avenue
· ATB Place: #105, 10025-Jasper Avenue

Food Items in Most Need by Edmonton's Food Bank include:
· Beans with or without pork
· Canned fish or meat
· Baby formula
· Peanut Butter
· Soup
· Pasta & pasta sauce
· Canned fruit or vegetables
· Macaroni & cheese dinners
· School snacks such as juice boxes, fruit cups and granola bar

Please Add to our Wall of Peanut Butter
Ed Fong thought it would be interesting to explore the concept of giving in different ways. When he saw the Food Bank's "Most Wanted List" and a Shoppers Drug Mart flyer, Ed immediately connected the dots. "I said, why not use my Shopper's loyalty points and redeem them for the Skippy Peanut Butter that was being advertised. So I walked myself over to Shoppers, cashed in all my points and ordered 100 jars. I'm sure that there are many other loyalty points out there that can be converted to food for those in need. We will have to look into this possibility when we plan the next food drive."
Please add to our wall of peanut butter being assembled and built at deVine Wines. Bring your jar and let's see how big and high of a pile we can build together!
Pictured here is Rhys Cordero, one of our young partners in the deVine family. Rhys happens to love peanut butter, as you can see by his enjoyment of his Reese's Peanut Buttercup. Peanut butter makes Rhys smile. He's hoping you can help us make a whole bunch of other little kids just a teeny bit happier too!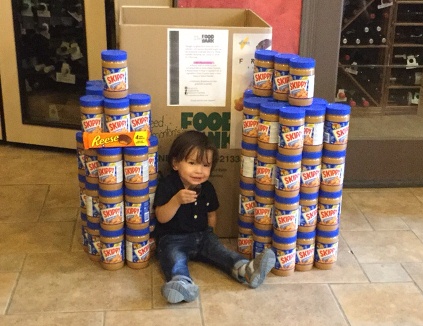 Quick Fact: According to the Food Bank about 850,000 Canadians use the Fook Bank every month. In Alberta, 43 per cent are children.
Supporting the Online Silent Auction
You can help support Edmonton's Food Bank and community development by bidding in the online silent auction currently underway. To place a bid, please follow this link here..
If you would like to donate an item to the auction, please contact the store by phone at 780.421.9463 or by e-mail at info@devinewines.ca for more information.

Making a Monetary Donation
Monetary donations are welcome and can be made by following this secure link at https://www.canadahelps.org/en/charities/edmontons-food-bank
Many of the merchants on 104th-St. will have donation boxes on their premises.
With your help, we can make a difference!