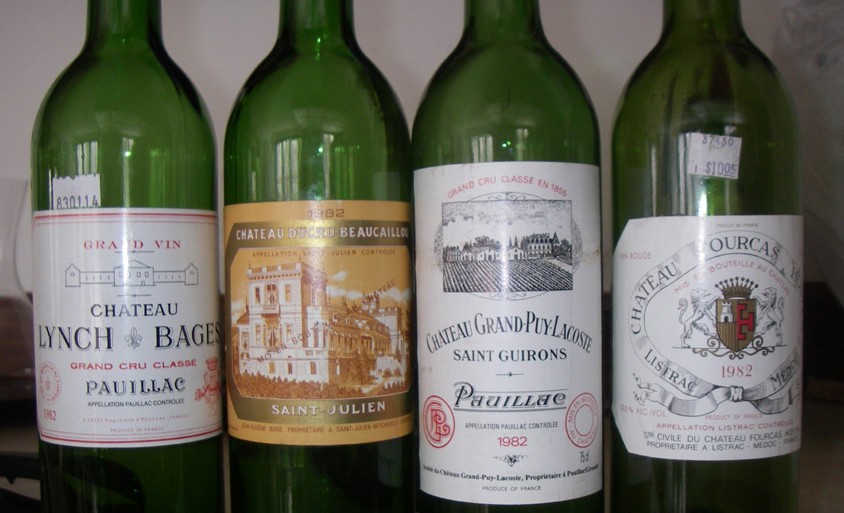 Author: Dirk Chan
I've been harping on the greatness of the 2005 Bordeaux vintage for over a year now, and even I am getting tired of writing about it, but a tasting with friends a couple of sundays ago really hit home that in great vintages, there are great wines across the board, and diving in and buying will reward you down the road. Our friend Richard Beeken hosted a Bordeaux afternoon for Ed Fong, Peter Robertson, Wayne Logus, Ivan Ivankovich and myself that featured a flight of 1982 Bordeaux.
Included in the 1982 flight was the Ducru Beaucaillou (2nd Growth), Lynch Bages (5th Growth), Grand Puy Lacoste (5th Growth) and a mystery 1982 brought in a brown bag by Ivan. It is always humbling to be tested with a blind challenge, and we threw out guesses that the mystery wine was a right bank Merlot based wine (Trotanoy),  a high class St. Estephe (Montrose), or a 2nd Growth Pauillac (Pichon Baron). When it was revealed to be the 1982 Fourcas-Hosten, a Cru Bourgeois from Listrac in the Medoc, we were pretty much floored. Furthermore, the price was $10 purchased in 1985!  In voting, we put it 2nd behind the amazing Lynch. This proves once again that it is important to buy all you can afford in a great vintage like 1982, 1990, 2000 and 2005.  This is not the first time we've had lower ranked wines in a blind tasting that best and easily compete with wines costing much more.
So fast forward to 2005, the Petit Chateaux and Cru Bourgeois of this vintage will afford you this same experience with ten years cellaring. Of course, $10 won't buy you a bottle twenty years hence, but here are a few to peak your interest. Oh yes, do sign up for the upcoming tasting at deVine where you can taste the Petit Chateaux and Cru Bourgeois before you buy!!
2005 Bordeaux: Petit Chateaux & Cru Bourgeois Tasting:  phone 780-421-9463 or book online here.
2005 Château Hauchat La Rose – $34.99 
2005 Château Petit Bocq – $44.99 
2005 Château d'Agassac – $49.99 
2005 Château la Garde – $54.99
2005 Château Grand Barrail Lamazelle Figeac – $59.99
2005 Château Potensac – $64.99