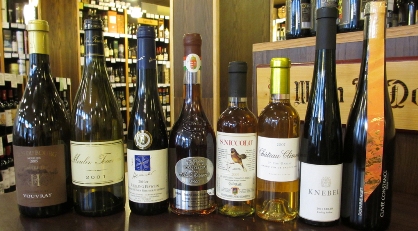 Author: Dirk Chan
Do you have a sweet tooth like me? and always looking for a swell way to end a meal? Well, in this blog, i am tempting you with a wide assortment of thrilling high end ultra-premium dessert wines that will suit that very special occasion and definitely put a smile on your face.
Pictured left to right are:
1) 2005 Domaine Huet Clos du Bourg Moelleux Première Trie (Vouvray, France) – $79.99. This is a full bottle from Huet – one of the biggest names in the Loire Valley, and is made from Chenin Blanc. This oily textured, exotically fruited dessert wine can be drank by the glass because it is so light on its feet and not at all cloying. Certified biodynamic. Can age effortlessly and improve with bottle age. Calls for a fresh fruit flan.
2) 2001 Moulin Touchais Coteaux du Layon (Loire Valley, France) – $56.99. Another legend from the Loire – this is an altogether different expression of Chenin – waxy, honey, almond, saffron, wet wool and clementines and citrus peel in an even lighter package than the Huet. Unusual minerality that borders on a touch of earthiness. Another drink by the glass dessert wine, with all kinds of aromatic complexity. Try with a rhubarb ginger pop tart. This is capable of 30-40 years of aging as a recent 1971 showed superbly!
3) 2010 Hexamer Rieslng Eiswein (Nahe, Germany) – $169.99. If you thought Canadian Icewine was expensive, well German ones are even more so. Extremely rare, you don't see a lot of Eiswein in the Alberta market because of tiny production and the producers tend to keep it for themselves! Hexamer is one of our favourite German producers, this Riesling is from the Nahe region known for their minerality – this is spicy, with stone fruits and custard in abundance. Great acidity never makes it taste syrupy or cloying. Calling out for a peach cobbler and home made vanilla ice cream.
4) 2000 Tokaj Classic Aszú Essencia (Tokaj, Hungary) – $149.99. Tokaj is the Hungarian classic dessert wine made from six possible indigenous grapes affected by noble rot – it is in the tawny style so more color, molasses and toffee notes. There can be an orange element to these wines. You are probably familiar with the Puttonyos system, ranging from 2 to 6 meaning increasing sweetness. Essencia is essentially a level of ripeness and sweetness beyond 6. You get the idea. A nector of the gods. Try with a homemade chocolate orange pound cake.
5) 2009 Castellare di Castellina Vin Santo S. Niccolo (Tuscany, Italy) – $45.99. The so called 'holy wine' is from the Tuscan region usually made from Trebbiano and Malvasia grapes, harvested and dried on straw mats. Apricots, honey, caramel, brown sugar with fine sweetness, great length and refined acidity here. Superlative wine that is a fabulous match with a panna cotta adorned with pistachio nuts and a drizzle of fine balsamic vinegar alla Corso 32. Decadent and a price quality ratio champ.
6) 2007 Château Climens Premier Cru (Bordeaux – Barsac, France) – $131.99. Sauterne is the class of the dessert field, and Climens (a Barsac) is light as a feather compared to most. Searing acidity, lots of botrytis (noble rot), you will wonder how something so light can have such great complexity and incredible length. Next to the d'YQuem, one of the world's best dessert wines consistently. You could do a fresh nectarine or peach tart, or just as well, nothing at all.
7) 2010 Knebel Winninger Uhlen Riesling Beerenauslese (Mosel-Saar-Ruwer, Germany) – $159.99. Beerenauslese is the German term for 'late harvest', and this Knebel is a stunner with its spice, sunny lemon, orange, forest honey, saffron and citrus rind notes. Spectacular body and mouthfeel, not as much botrytis as the French, long glycerin oily finish. Not as sweet as some on this list, try with the Duchess' Lemon Chiffon cake.
8) 2009 Domaine Huet Cuvee Constance (Loire Valley, France) – $167.99. This ultra-rare organic Vouvray from Chenin Blanc is only made in the greatest of vintages (for example, there hasn't been one made since the 2009, although the 2015 is rumored). Peach, lime, ginger, spiced apple, ginseng, saline, hazelnuts, green tea, flowers, blossoms, marzipan in a minerally package. You name it, this has it – this is truly one of the greats of the world spoken in the realm of d'Yquem. Every dessert lover should taste this once in a lifetime. Try by itself or with some blue-veined cheeses and assorted roasted nuts.
There you go, some out of this world wines for the sweet wine lovers out there! Salute!