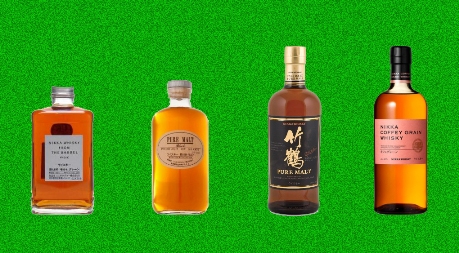 Author: Dirk Chan
The Nikka Whisky Distilling Co. Ltd. is a producer of Japanese whisky and other beverages headquartered in Tokyo. Founded in 1918, Nikka has risen to become Japan's second largest distiller, producing a wide range of single malts as well as their impressive blended whisky range. The founder, Masataka Taketsuru, travelled to Scotland in 1918 to learn the process of distilling Scotch whisky first hand. Nikka also owns the Ben Nevis Distillery (acquired in 1989) in Scotland.
The company operates a number of distilleries and other facilities in Japan, including two Japanese whisky distilleries, the Yoichi distillery in Yoichi, Hokkaidō (established in 1934) – produces rich, peaty and masculine malts while the Miyagikyo distillery in Aoba-ku, Sendai, Miyagi Prefecture, Northern Honshū (established in 1969) produces a soft and mild malt.
In 2008, Yoichi 20 Year Old was voted best single malt at the World Whiskies Awards.
Here are the available Nikka's for your consideration: (pictured left to right)
1) Nikka From the Barrel (Japan) – $61.99
2) Nikka Pure Malt Black (Japan) – $64.99
3) Nikka Taketsuru Pure Malt (Japan) – $76.99
4) Nikka Coffey Grain Whisky (Japan) – $84.99
Japanese whisky has been on the ascent, and Nikka typifies that movement. Try for yourself to see what the fuss is about. Salute!