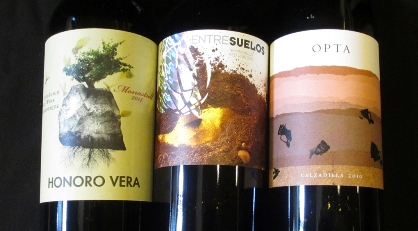 Author: Dirk Chan
We have been expanding our Spanish section in the last little while with new wines from all regions. Spain's long standing champ from Rioja is still going strong, but when we talk of a bargain Spanish wines, the lesser regions of Jumilla, La Mancha and Castilla y Leon are gaining steam. Definitely the wines here are cheaper and better value than Rioja.
Jumilla – This historic area in southeastern Spain near Murcia, has staked out its claim with the production of red wines with wines of fine color and smooth palate usually made from the Monastrell (Mourvedre) grape. Getting very popular, its aromatic nose is beguiling and you can drink the wines young with food.
Castilla y Leon – Situated in northwestern Spain, Castilla y Léon is known for its traditional beauty, plentiful fortifications, and historical importance. It accounts for about one-fifth of the country's total surface area and stretches roughly 220 miles (355km) from the centre of Spain almost all the way to the north coast. Equally wide, it connects its famous neighbor Rioja with the border of Portugal. It encompasses Ribera del Duero, Toro, Rueda and Bierzo regions.
La Mancha – a natural and historical region located on an arid but fertile soil of central Spain, south of Madrid, from the mountains of Toledo to the western hills of Cuenca. The terrain has reddish-brown sandy clay soil that are poor in organic material, and rich in lime and chalk. Tempranillo and Garnacha are the common grapes grown.
Here are the links to these three gems from these three regions that has caught our eye (pictured left to right):
1) 2014 Hijos de Juan Honoro Vera Organic Monastrell (Jumilla, Spain) – $19.99
2) 2012 Bodegas Triton Entresuelos (Castilla y Leon, Spain) – $21.99
3) 2010 Pago Calzadilla Opta (La Mancha, Spain) – $26.99
There are many more great values in our Spanish section, drop by to check them out, or else shop online. Salute!