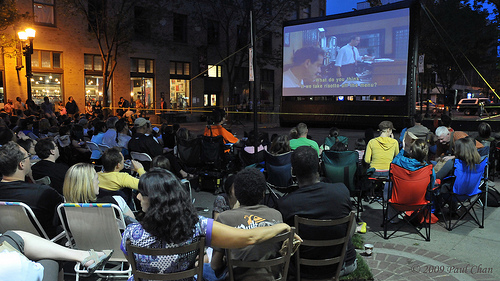 Author: Ed Fong
A big THANKS! to all who came out to enjoy Al Fresco and bid on our silent auction items.  Your support and generosity helped us raise nearly $21,000 for the Alberta Council of Women's Shelters.  This tripled our projected goal, so hats off to all who participated.
What started out as a deVine fundraiser and a celebration of our 4th year anniversary quickly evolved into a 104th-St. community event.  I want to take this opportunity to thank the various groups involved who made this event the success it was.
Event Sponsors
Thank you to Jim Taylor and the Downtown Business Association for their enthusiastic support.  Your team was truly amazing.  Special mention goes out to Kathleen Ong, Victoria Boutilier and the Core Crew for helping spread the news about the event.
Thank you to Ralph Young and his team at Melcor Developments.  Special mention goes to Catherine Bergamo for her logistical support and Lloyd Diggins Sr. and Jr. for their on-site assistance.
Thank you to Kristina Owen of Fosters Wine Group for your support and assistance.  Your help in liaising with Edmonton Police Services is greatly appreciated.
Thank you to Dirk Chan, my partner and friend who donated the great collection of 2000 Bordeaux from his cellar to host an amazing retrospective tasting.  Your generosity speaks volumes.
The 104th-Street Participants
The involvement of so many businesses on 104th-St. truly made Al Fresco a community event.  Your enthusiasm in pulling together to support a common cause was truly impressive.
Thank you to Brett Cuthbertson of Sobeys for providing popcorn and refreshments to the moviegoers and logistical support to our outdoor Portuguese BBQ.  Your presence on the street and willingness to help out was tremendous.  Thank you also to Thomas Rose of Sobeys for all his support.  Thomas played double duty for organizing a very successful pancake breakfast on behalf of the Downtown Edmonton Community League.  The breakfast was a great way to kick-start the day.


Thank you to John Williams and Rima Devitt of the Blue Plate Diner for setting up a fantastic outdoor patio and making a major donation to the ACWS.  Your generosity went above and beyond.  Thank you to Andrew Leo for all your contributions in making the Blue Plate Diner outdoor patio such a huge success.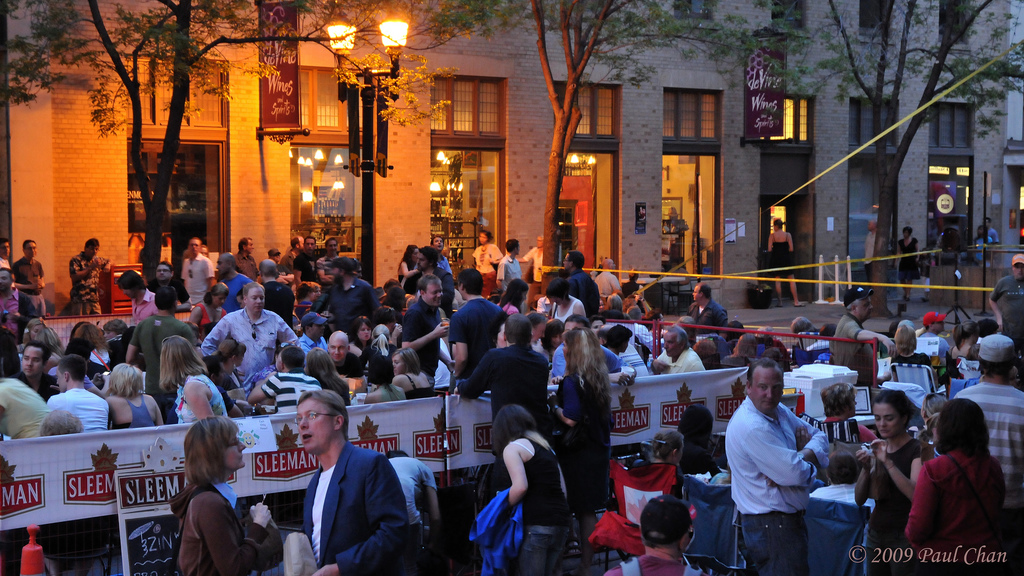 Thanks to 29 Armstrong, the Eye Care Group, C'est Sera and Blunt Hair Salon for putting together the Al Fresco Fashion Show.  Special thanks to Amadeo Pagliuso of 29 Armstrong for booking DJ Junior Brown.  His music helped liven up the street festivities.
Thank you to Kelsey Danyluk and Glenn Haugh of Tzin Wine & Tapas for setting up the outdoor patio and donating to the ACWS.  Glenn also did a great job in promoting the event by contacting various members of the media and securing Capital FM, who broadcasted live from the event. A big thanks to Capital for promoting Al Fresco.
Thanks to Marcus Gurske and Jasmine Politeski of Play it By Ear Productions for promoting Al Fresco and sending down the news crews. We look forward to working with you next year.
Thanks to the vendors of the Edmonton Downtown Farmers Market who remained open for the Al Fresco activities.  You showed great stamina in being on 104th-St. from 8:00 AM on!  Special thanks to the following from the Farmers Market for their logistical help:  Jon Hall, Renee Giordano and Stephanie Szakacs.  Your assistance and guidance with the street closure was invaluable.
Thank you to Allison MacLean of Carbon Boutique for creating the ultra cool outdoor yoga demonstration.  Allison had the courage to step outside the box and lay sod down on 104th-St. to provide comfort to the yoga participants.  It's not easy being green!
Thank you to Mark Woytiuk of Leva Café for participating with your gelato stand.
Thanks also to Ed Wong and Don Doucette of ATB Financial for providing bottled water to the thirsty Al Fresco patrons.  The donation made by ATB Financial to our silent auction is greatly appreciated.
Volunteers
No event of this magnitude would be able to run smoothly without the people who donated their time and effort.  Special thanks go out to the following volunteers who contributed to the success of Al Fresco:
Nicole Gaudet for designing the Al Fresco posters and point of sales material.  Your artwork was eye catching and fabulous!  A big thanks also for helping out on the ultra busy sales floor of deVine Wines.  If you ever need a job as a cashier…..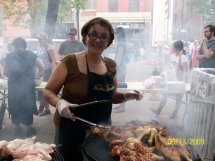 Dawn Woolsey for supplementing Nicole's design and printing posters.
Bob Parsons for assisting on the sales floor at deVine Wines.  Thanks English Bob!
Manuel and Alice Evaristo for halving, marinating and cooking 200 chickens at the Portuguese BBQ.  Thank you for sharing your tried and true recipe with us all.  Thanks to Paulette Luchkovich for helping serve at the Portuguese BBQ.  You are now an official member of the smoke eaters club!  Thanks to our overseas guest, Marc Vigneron of Nobilis Wine Importers, for chopping and serving chicken till your hands were too sore to pick up a wine glass.  Your donation to the silent auction was just the icing on the cake.
Stephanie Tooke and her team, the Edmonton Emus Aussie Rules Football Club, for providing security and those extra pair of eyes on 104th-St.
Wine Importers & Agents
A big thanks to all the agents and wine importers who came out to pour and support this very worthwhile fundraiser.  We could not have done this without your support.   Over 400 people lined up to come in and taste wine when we only expected 100.  Your donation in time and product helped us raise over $6,000!  We raise a glass to you all for an outstanding effort!
Silent Auction Donors
The silent auction raised nearly $10,000 for the ACWS.  The many interesting and unique items contributed by our generous donors made this all possible.  A big THANK YOU to all those who donated and to those people who bid with open hearts.  Cheers!
The City of Edmonton and the AGLC
Thanks to Michele Finn, Festival Liaison at the Civic Events Office for facilitating the event and organizing road crews to assist with the street closure. See you next year, Michele.
John Wilson with  the City of Edmonton for granting us the noise waiver.
And Scott Harhara at the AGLC for helping us set a precedent in the city.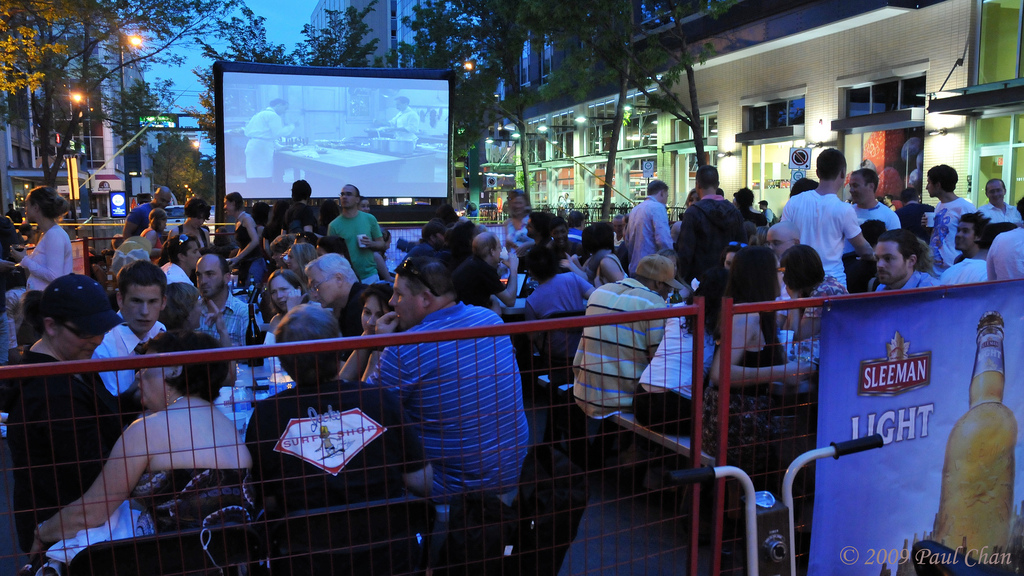 The deVine Team
Last but not least, I would like to thank all the members of the deVine Team for pulling together to make this event come alive.
Thank you to Nick Tooke who dreamed up the concept of Al Fresco and who worked tirelessly to make this event a reality.  Kudos for a job well done and executed.
Thank you to Dirk Chan, our unsung hero, who spent countless hours updating the silent auction items and results.  Your generosity in donating many bottles of rare wine from your personal cellar goes above and beyond.
Thank you to Annabelle Evaristo for making the fundraising dinner at Sabor Divino a great success.  Your knowledge and personal contribution of great Portuguese wine made for a memorable evening. Thanks for sharing your family recipe at the Portuguese BBQ and for the hours of preparation to make this one of the highlights of the festival.  You are the true leader of the Portuguese Smoke Eaters Club!
Thank you to Hayley McRae for managing the in-store wine tasting.  You did a great job in coordinating activities with the wine agents and helping the throngs of people on the sales floor.
Thank you to Rick Langlois who worked so diligently in the back washing and polishing wine glasses for six hours straight.  You managed to keep fresh glasses coming to every guest for this marathon tasting.
To Chad Gascho, Derek Tansley, Jimmy Clooney and Blair Bouchard, thanks for a job well done and for putting in a great team effort.
Photographs courtesy Paul Chan – used with permission only.