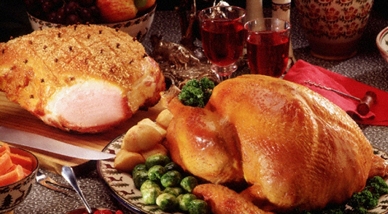 Author: Dirk Chan
Wow…Thanksgiving week is upon us, so here is our annual picks to accompany the classic turkey and/or ham dinner with all its fixings. Start your evening off with a sparkling wine,followed by whites, reds, a dessert wine and perhaps this year add a little meditation course for Amaro or Port.
Sparkling Wines
Sparkling wines are a great way to start any function whether its a greeting aperitif or to pair with appetizers. Lively and clean, these will get everyone ready for what's to come next.
2013 Domaine Rosier Cuvee Ma Maison Cremant de Limoux (Languedoc-Roussillon, France) – $21.99
NV Cantina Colli del Soligo Prosecco Solicum (Veneto, Italy) – $24.99
NV Domaine du Closel Chateau des Vaults Brut Sauvage (Loire Valley, France) – $59.99
Champagne
Now if you serve Champagne, your audience will immediately know you're here to do some serious partaking and celebrating.
NV Gremillet Brut Selection (Champagne, France) – $49.99
NV Nicolas Maillart Brut Rosé Grand Cru (Champagne, France) – $71.99
NV Champagne Jacquesson Cuvee 739 Extra Brut (Champagne, France) – $79.99
2002 Bollinger R.D. Extra Brut (Champagne, France) – $349.99
Whites & Pinks
Whites with a touch of sweetness is preferred because of the sweetness of some of the fixings – candied yams, cranberry sauce, and honey for the glazed ham. A completely dry white will seem more austere and void of fruit due to the sweetness of the food so I recommend Rieslings (dry or off-dry, both work), Gewurztraminers or other Germanic or Alsace varietals. Having said that, some will always go with a dry creamy Chardonnay irregardless and that's perfectly fine. Also, don't forget that rosés work really well too!
2015 Spier Signature Chenin Blanc (Western Cape, South Africa) – $15.49
2015 Hillside Estate Unoaked Pinot Gris (BC – Okanagan, Canada) – $23.99
2001 Querbach Library Release Edition Riesling (Rheingau, Germany) – $27.99
2014 Emrich-Schonleber Riesling Trocken (Nahe, Germany) – $34.99
2014 Planeta Chardonnay (Sicily, Italy) – $47.99
2012 Domaine Marc Morey Puligny-Montrachet Les Referts Premier Cru (Burgundy – Cote de Beaune, France) – $129.99
2015 Chateau Mourges du Gres Galets Rosé (Rhone Valley, France) – $21.49
2015 Il Feuduccio Cerasuolo Rosé (Abruzzi, Italy) – $23.99
Reds
For reds, try to avoid the big oaky tannic monsters. Oak and tannins are the enemies when pairing with slightly sweet food, try for a red with lots of up-front fruit, little oak and a soft tannins like a Beaujolais (served slightly chilled) or a Pinot Noir.
2014 Dominique Piron Chiroubles (Beaujolais, France) – $25.99
2013 Jean-Paul Brun Morgon TD (Beaujolais, France) – $29.99
2014 Spinning Top Pinot Noir (Marlborough, New Zealand) – $21.99
2010 Julius Klein Rotwein Trocken St. Laurent (Austria) – $23.99
2012 Glen Carlou Classic Pinot Noir (Paarl, South Africa) – $26.99
2014 Trisaetum Pinot Noir (Willamette Valley, Oregon) – $44.99
1985 Caves Sao Joao Porta dos Cavaleiros Reserva (Dao, Portugal) – $49.99
2007 Andrew Will Ciel du Cheval Vineyard (Columbia Valley, Washington) – $74.99
2006 d'Arenberg Ironstone Pressings Museum Release Grenache-Shiraz (McLaren Vale, Australia) – $79.99
2004 Domaine d'Ardhuy Cortons Haut Murrottes Grand Cru (Cote-de Beaune, Burgundy) – $124.99
2001 Betts & Scholl Hermitage (Rhone Valley, France) – $139.99
2008 Tenuta di Biserno Biserno (Bibbona, Italy) – $174.99
2005 Château La Gaffeliere (Bordeaux – St. Emilion, France) – $249.99

Dessert
As for dessert, i would recommend a Pedro Ximenez from Spain for that Pecan pie pairing. Others listed below would pair well for fruit based desserts.
Lustau Pedro Ximinez San Emilio Solera (Jerez, Spain) – $25.99
NV Torres Floralis Moscatel – 375mL (Penedes, Spain) – $20.99
2005 Isole e Olena Vin Santo – 375mL (Tuscany, Italy) – $69.99
2010 Hexamer Meddersheimer Altenberg Riesling Eiswein – 375mL (Nahe, Germany) – $89.99

Port & Amaro (Post Dinner)
Port is always good for the final touches of a meal, but the digestif Amaro from Italy is on fire.
Braulio Amaro Alpino (Italy) – $34.99
Nonino Amaro (Friuli-Venezia Giulia, Italy) – $47.99
Ferrochina Amaro Baliva (Italy) – $61.99
1966 Messias Colheita Port (Douro, Portugal) – $144.99
2003 Quinta do Portal Vintage Port – 375mL (Douro, Portugal) – $34.99
Graham's 20 Year Old Tawny Port (Douro, Portugal) – $74.99
1987 Niepoort Vintage Port – $169.99
Finally, if you are pressed for time, try out our October Mixed Case – $222.49 where a lot of the wines would pair well with Thanksgiving dinner.
Note our regular store hours are in affect this long weekend, except holiday monday when we're open from noon-5pm.
Happy Thanksgiving everyone!