Author: Dirk Chan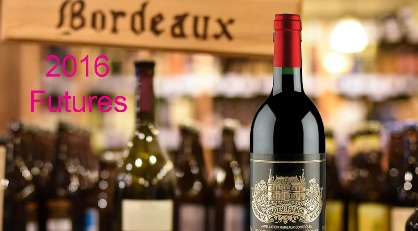 Bordeaux is one of the few wines in the world where they present their wines for sale long before it is even finished or bottled. It is called En Primeur (or Futures). deVine has had a tradition of offering the great wines from great Bordeaux vintages in our Futures program since the store's inception. We have presented large Futures offerings for the heralded 2005, 2009, 2010 and 2015 vintages, with smaller offerings in 2008 and 2011. The 2016's will rank with 2000, 2005, 2009, 2010 and 2015 as the best since the new millennium, so those of you wanting a great Bordeaux vintage in your cellars will want to participate in this years Futures offerings that we will be offering very shortly. Where the Northern Medoc was not at its best last year, the 2016's are uniformly excellent in both left and right banks – St. Estephe is excellent in 2016 while St. Julien is the star.
The pair of 2015 & 2016 is being compared to other great pairs of the past, namely 2009 & 2010 and before that 1989 & 1990 – that's pretty awesome company. This is early yet, but it looks like prices will be very close to 2015 pricing with perhaps a small (<10%) increase. That's good news when compared to the extravagant 2009 & 2010's. Open tastings for critics has just finished and offers have begun with the small so called Petit Chateaux. The Wine Spectator and Wine Advocate scores are out now and the the entire campaign will run till mid June.
Our process will be the same as last year, we will be consulting with you beforehand to get a good idea of what wines and appellations you're interested in and purchasing only what has been committed by you. Thus please email us or drop in to the store to speak with us, and we'll help you pick wines and offer our opinions in whatever budget or classification of wines you are looking for. Thus, we are asking you to contact us as soon as possible to let us know:
1) what your total budget is
2) what your average price per bottle
3) class of wine (First Growths, Seconds, Third-Fifths Growths, Cru Bourgeois or Petit Chateaux)
4) desired appellation(s) (Left Bank – St. Estephe, Pauillac, St. Julien, Margaux, Pessac, Haut Medoc, Medoc) or (Right Bank – Pomerol, St. Emilion, Satellites)
5) if you know of specific Chateaux you definitely want, please let us know ahead of time
6) if you have a vertical of a particular Chateau going, please let us know

Based on our discussions with all of you, we will offer wines to those who we've consulted with first (so you have first dibs), with whatever remaining that's unsold then going onto the website for general sale, thus we offer wines first to those who've communicated their requirements to us beforehand.
Beware who you buy futures from – this is like the stock market, wines are purchased years before they are even bottled and a lot can change in barrel – it is wise to consult with experts prior to purchasing and from those with a proven track record in En Primeur. We have been doing this for awhile and have delivered on every single bottle purchased from us En Primeur. Our free consultation will help you weed out from the masses of supply out there and provide you with some great Bordeaux for your cellar at the budget that suits you. Note we only offer wines for sale that we've actually purchased, so there is no speculation at play where every chateaux is on sale and are only purchased when someone wants it (at which point in time those wines may be already be sold out or the prices have escalated in second or third tranche pricing).
As last year, we require full payment upfront (this locks the wine in irrespective of exchange rate fluctuations) and the wines will arrive in the store mid to fall of 2019. What is not sold in Futures program will be put on the shelf for sale upon their arrival at a 20% premium thus it is wise to buy now to ensure you get your hands on some and at a better price.
This year, we're also doing a Bordeaux Futures Tasting on Saturday, June 3rd at 7pm at the store – for those of you who want to learn about the Futures process, but more important to let you taste different wines from seven different Bordeaux appellations and from several vintages.
More information and to register for the tasting, click here….
Also keep coming back to our website for futures offerings real soon.