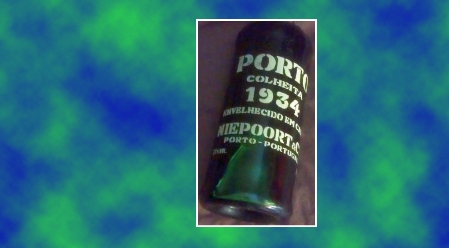 Author: Dirk Chan
deVine and Artisan Wines Ltd. is offering a pre-sale of the extraordinary and rare 1934 Niepoort Colheita – $1499.99, available in either wood box or metallic box. Niepoort is one of the Douro houses known for its Colheitas, a single vintage Tawny aged in oak casks ranging from 550 to 600L that comes from old vines (around 60+ years).
The following is famous American wine critic Robert Parker's take on it:
"1934 is an example of a wine in bottle a long, long time (it was botled in 1981). Besides the notable concentration and viscosity, it has powerful acidity to cut through its palate and make it seem bright and vibrant as well, with some brandy in the background. Aromatics, viscosity, acidity, complexity, amazing finish – it isn't missing much. Well, perhaps elegance isn't a word you'd use often here. If it seems rich, the amazing nose is so powerful, projecting molasses and dark chocolate, that it promises three times that level of richness. The acidity cuts the viscosity nicely, enlivens the wine and hammers home a deliciously, juicy finish that lingers more or less forever. Embarrassing to admit, but I forgot to brush my teeth after one tasting of this. The next morning, I could still taste it on my teeth, identifiable and rather fresh. With air and a couple of days, this wine loses just a tiny bit of its rich feel and begins to show more of its powerful structure. There is a lot of underlying power here, period. It never lost that rich texture and viscosity. It seemed more or less identical on Day 2 to Day 1,
perhaps even better.
This dense, full throttle Colheita simply takes no prisoners. If you're looking for gentle and easy, this sure isn't going to satisfy that urge on opening. It is a good example of how great older Colheitas can be. It's not just about age, to be sure, but also style and year. All things said, this is simply brilliant. It is at a level of intensity and concentration that must be experienced. 99 points."
Pre-sale ends next Sunday, September 3rd at midnight, the purchased port will arrive in early October.
Please pre-buy the 1934 Niepoort Colheita (Douro, Portugal) – $1,499.99 here