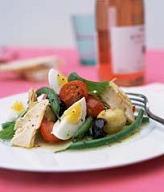 Author: Nick Tooke
Pairing food with wine is nothing new. Imagine growing up in Italy or France before rapid transport. The food and the wine grew side by side in the same soil, beneath the same weather, and they naturally graced the same table. The safest way to still find the right combination is consider the particular region as a whole.
See the video of our "The Alchemy of Food & Wine Tasting"
But that is only where the journey begins. The best thing of all is breaking the rules and discovering a marriage that both surprises and delights. You'll know when you taste it. Your palate doesn' t lie.
So why the alchemy, not the art or the science? Because turning lead into gold is a filial metaphor. Wine is rotted grapes, to be sure, just as cheese is sour cream, but together the two can be oh, so much more.