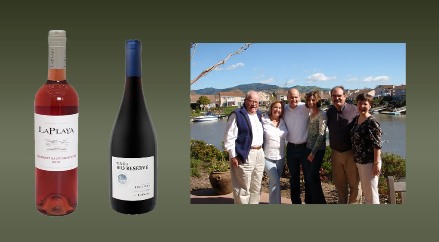 Special Guest Blogger: Denise Brisson of Cellar Stock Importers Inc.
When I first met Søren Axelsen the founder of Viῆa La Playa and CEO of Cab Corp, I was a sweating 26-year-old. I was sitting across what seemed an enormous desk and trying to present myself as a confident young wine importer that could represent his wines in Western Canada. With a twinkle in his eye, Søren slowly leaned forward and said "I will give you a chance but I only take orders that are a minimum one -container (1,000 cases) and you pay me in advance". I left his office in the spring of 1996 and have been importing La Playa wines ever since.
The story of Viῆa La Playa is the story of Søren. In 1952, 20-year-old Søren Axelsen left his native Denmark bound for a job with a shipping company in New York City. Next, he lived in Chile for 2 years falling in love with the land, the people and the wine. Little did he realize that he was embarking on a 50-year journey that would see him build a dynamic wine company spread over 3 continents.
While back at home in 1956 he met and married Miss Denmark (literally) and the couple immigrated to the US. Søren worked in the beer business until the 1970's, notably introducing Tuborg Beer to the American market. He entered the Monterey wine scene next, becoming one of their first commercial grape growers and their first grower to export grapes to Scandinavia. This is when the sales and marketing arm, Cab Corp, began.
Søren returned to Chile in the late 1980's, as the political situation calmed down. He was one of the early foreign investors and the first to export Chilean bulk wine in Denmark starting in 1987. Søren and other foreign investors influenced the quality of Chilean wine from variable and cheap to world-class. By 1989, Viῆa La Playa was launched.
Sadly, we lost Søren in December 2016, leaving La Playa to his sons Peter and Eric. Personally, I will never forget his twinkle, unique giggle, his generosity, loyalty, his keen sense of business, integrity, and old-world grace that that never faltered from the first time I met him as that scared young woman.
Today, Viῆa La Playa is still family owned, estate grown & bottled, certified sustainable and vegan.
The La Playa varietal wines are straightforward, generously flavoured, and easy drinking. They are joined by their oak aged "Tinga Rio Reserve" level wines that are robust, smaller production and pair well with food.
Pictured above from left to right:
2019 La Playa Dry Rosé (Colchagua Valley, Chile) – $15.99
2018 La Playa Tinga Rio Reserve Pinot Noir (Colchagua Valley, Chile) – $21.99
Inset Photograph – Soren, Ingrid, Eric, Sjoukje, Tom & Denise
Other available La Playa wines:
2019 La Playa Chardonnay Un-Oaked (Colchagua Valley, Chile) – $14.99
2016 La Playa Carmenere (Colchagua Valley, Chile) – $15.99 – Note this is also featured in our November Case of the month
2020 La Playa Sauvignon Blanc (Curico, Chile) – $15.99
2018 La Playa Estate Series Merlot (Colchagua Valley, Chile) – $15.99
2015 La Playa Tinga Merlot Reserve (Colchagua Valley, Chile) – $21.99