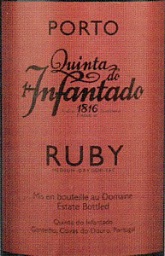 Author: Dirk Chan
Hard to believe it has only been since 1986 that Portugal broke the monopoly of the British shippers to start their own export of estate-bottled ports and the Quinta do Infantado (the Portuguese word for 'prince') was the first grower to take advantage of the new laws and start shipping to North America. The high altitude (150km) winery is located in Pinhão, on the north bank of the Duro River in the subdistrict of Gontelho with its 'Class A' vineyards, where the best port houses are found. Ran by the dynamic João Roseira, vineyard manager and winemaker, along with his sister Catherine Roseira, Chief Executive Officer.
With an impressive portfolio of White, Ruby, Tawny, LBV and Vintage Ports, plus the addition of table reds, all made from their Class A vineyards and handpicked. I remember a fantastic 1983 LBV that was almost as good as some of the declared Vintage Ports from that year. Traditional winemaking here, all the wines made here are held in lagares which Joao believes gives the a very high ratio of skins to must resulting in better definition and  richer, fuller bodied wines. Try out the basic Ruby Port for $22.99, it is extremely elegant and rich with plummy fruit, an excellent value for the money and one of the best of its kind.  The house style of the ports is less dry than some.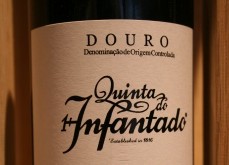 Portuguese reds (made from the same indigenous grapes – Touriga Nacional, Touriga Franca, Tinta Roriz used in the making of Vintage Port) are really catching fire with the public, and the excellence of the 2005 vintage seems to be universal. The 2005 Infantado Douro table red is no exception and is very fine indeed and deserves your attention while the Douro Reserve is even more distinctive with its perfumed raspberry, spiced red cherries, pomegranate and sandalwood notes and yes very ageworthy to boot. Douro Reds from Infantado have only been bottled since 2001 but the Reserva can compete with the Niepoort Charme, or the Quinta do Val Meao Douro Reserve. From our tastings,  Infantado is one winery on the rise.
NV Quinta do Infantado Ruby Port – $22.99

2001 Quinta do Infantado LBV Port – $35.99

NV Quinta do Infantado Dry White Port – $24.99

2005 Quinta do Infantado Douro – $23.99